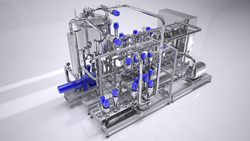 Whether you need a single component or a complete turnkey plant, GEA has the right technology and the right knowledge and experience to meet those requirements — every time.
(PRWEB) May 28, 2015
As homecare and personal care (HPC) process experts, GEA offers the largest variety of hygienic solutions, equipment, technology and plant for the liquid, solid and semi-solid processing of personal care (cosmetics, body, hair, oral and skincare) and homecare (fabric care, household cleaners and dishwashing liquids and tablets), products, including the most demanding unit operations in today's liquid process industries — mixing and blending.
On display at the show, GEA will highlight three types of mixers/blenders: high shear liquid mixers, continuous inline liquid mixers and continuous inline liquid blenders. Visitors will be able to see the versatile and energy efficient BATCH FORMULATM high shear liquid mixer in action and discuss specific applications with on-stand staff.
The company will also exhibit the benchtop PandaPLUS 2000 laboratory scale homogenizer. This compact unit, designed for continuous operation at high pressure, is the perfect solution for high quality, high-pressure nano-scale processing and reliable cell disruption.
As well as drying and agglomeration solutions, GEA's scope of supply also includes tablet compression using high-speed rotary presses and powder handling systems designed specifically to handle fragile products and meet all sanitary conditions. The PERFORMA™ Lite, a cost-effective version of the company's market-leading PERFORMA™ P rotary tablet press, will be on show. For homecare powder applications such as detergent tablets, dishwasher tablets and water softener tablets, when performance, flexibility and process control really matter, the PERFORMA™ Lite is your tablet press of choice.
In addition, GEA will showcase its range of modulating control valves, tank cleaners and VARICOVER® product recovery systems, which are particularly suitable for applications involving high-value viscous products that can be pushed out of pipes without intermixing.
ACHEMA, the world forum for chemical engineering, will host almost 4,000 exhibitors and has identified three key themes, Biobased World, Innovative Process Analytical Technology (PAT) and Industrial Water Management. Other hot topics are energy efficiency, materials and materials testing, and safety technology.
"We are established experts in raw material handling, mixing and blending, storage, end-of-line packaging, product recovery, cleaning and sterilising in place, and automation," noted Lynette Billany, Marketing Administrator, "and ACHEMA is the perfect event to showcase our technology and equipment."
"Whether you need a single component or a complete turnkey plant, GEA has the right technology and the right knowledge and experience to meet those requirements — every time — in terms of hygienic design, safety, productivity, profitability and quality. It also has the skill, experience and fundamental understanding of the products and processes involved, gained through its long history and unrivalled knowledge, to make a significant difference to any project, large or small," she added.
GEA is your single source solution provider for homecare and personal care processing worldwide; it's where technology and systems integration experience come together for maximum efficiency, profit and quality for the global HPC industries.