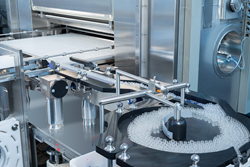 (PRWEB) May 28, 2015
With 60 years of experience in the engineering and manufacturing of freeze dryers, GEA has delivered more than 1,000 installations and conducted thousands of freeze drying tests for the pharmaceutical and biotechnology industries, underlining the company's technological leadership and unparalleled expertise.
GEA's thorough understanding of the freeze drying process enables it to supply a comprehensive range of products and services, comprising pilot plant for research and small-scale production batches, industrial size production freeze dryers as well as complete freeze dryer systems consisting of one or multiple modules plus ALUS™ (Automatic Loading and Unloading System), integrated isolators and CIP-skids. Offering a variety of both cost-effective standard and highly customised options, GEA's modular equipment extends from R&D to standalone production plants and high-capacity systems for bulk product applications.
ALUS™ minimises the risk of operator/product contamination during lyophilizer loading and unloading, offering shorter processing times, improved productivity and, using state-of-the-art monitoring systems, reduced operational costs.
In collaboration with SCHOTT and HEUFT, GEA has developed a vial traceability solution that will help the pharmaceutical industry to implement the EU's drug anti-counterfeiting directive, safeguard the rights of trademark and patent holders and, ultimately, protect patients. The new system, which will be on display at ACHEMA, ensures distinctive marking and continuous traceability, including complete process and product data backup, making drug counterfeiting practically impossible. The system also offers online quality inspection, 100% line clearance and precise sampling.
Extending its range of LYOVAC™ freeze dryers, GEA now offers the FCM 25-I and FCM 75-I for the production of small-scale batches and formulation development. Designed to comply with the most stringent good manufacturing practice (GMP) standards, the new LYOVAC™ units have been built with operator safety in mind. Full isolator protection for processes involving potent or toxic substances is available.
LYOVAC™ freeze dryers are a unique and efficient combination of proven technology and individual solutions that are customised to meet specific user requirements. The lyophilizers are supplied with an integrated and exchangeable L-flange or a unique modular isolator system.
Operating in a Grade C environment, other modules, such as filling and capping systems, can be quickly and easily interchanged, resulting in both a dramatic reduction in footprint and equipment costs. Available for rapid delivery — with low infrastructure requirements — for multiple product and/or delivery device lines, the modules offer an ideal solution for vial, ampoule, syringe and cartridge processing, and liquid, powder or lyophilized form applications.
Supplied in two sizes (1.5 and 4.5 m²) with nominal condenser capacities of 25 and 75 kg, the smaller FCM 25-I machine can process up to 6500 vials (2 mL), whereas the larger FCM 75-I is capable of handling more than 20,000 similarly sized vials. Each unit benefits from sterilisation by VHP VAPOVAC™ or steam, depending on available utilities, and CIP functionality. Further, ControLyo® nucleation on demand technology and LYOPLUS™ silicone oil detection can be provided.
Fully compatible with toxic, potent and volatile product, the FCM units are ATEX-compliant and designed for easy scale-up. Partial loading is also possible for variable batch sizes. For flexible product development and small-scale, semi-automatic processing, including the use of nests and tubs, the FCM range of LYOVAC™ freeze dryers from GEA provides reliable, safe and cost-effective productivity and price/performance excellence.
To arrange an appointment or request further information, please contact achema@gea.com.