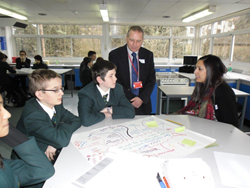 The Packaging Federation is delighted at the many examples of creativity and industry shown by these young people in this Fresher for Longer competition. Now we need to see retailers, local authorities and consumers pick up the baton and do likewise
(PRWEB UK) 1 June 2015
Eight packaging companies are today celebrating the success of Fresher for Longer, a 12 week long programme which challenged 10 secondary schools to demonstrate their understanding of how packaging protects food on its journey from field to fork and helps to reduce its perishability by creating innovative campaigns.
Fresher for Longer, part of the UK's national Love Food Hate Waste campaign, gave students in 10 secondary schools across England and Wales the chance to tackle food waste in their own school communities. After a series of food waste workshops delivered by Global Action Plan, the 195 students designed and implemented their own food waste behaviour change programmes. The resulting creative and impactful campaigns saw student teams reaching out to 50,000 people including classmates, teachers, families and even to local businesses and local governments.
The campaigns were assessed by representatives of the packaging sector, Global Action Plan and WRAP who were amazed by the very high standard. Alfreton Grange Arts College most impressed the judges and will attend a celebratory event at the Museum of Brand, Packaging and Advertising in June. Other schools commended for their magnificent efforts were The Warwick School and All Saints Catholic Academy. Ousedale School was also singled out for the Love Food, Hate Waste award for their innovative video.
"We would like to thank all of the students involved for their hard work. It has been great to see such a variety of ideas and great to see that so many students now have a good understanding of how packaging prevents food waste from farm to fork. We have thoroughly enjoyed seeing what the students have been up to". - Jane Bickerstaffe, Director of INCPEN (Industry Council for research on Packaging and the Environment).
"The Packaging Federation is delighted at the many examples of creativity and industry shown by these young people in this Fresher for Longer competition. Now we need to see retailers, local authorities and consumers pick up the baton and do likewise. FfL is here to help reduce the scandal of our national food waste. Everyone can and must play their part". - Dick Searle, Chief Executive, the Packaging Federation
As well as providing financial support to enable the schools to participate, the eight packaging companies provided employee volunteers. Their guidance, enhanced the students' learning journey as STEM Ambassadors, helping to cement their position as the green leaders of tomorrow.
END
Editor's Notes
The Fresher for Longer partnership was initiated by the Packaging Federation, the Industry Council for research on Packaging and the Environment (INCPEN), the Waste-Resources Action Programme (WRAP), Kent Resource Partnership and the Food and Drink Federation, to highlight the role that packaging can play in reducing food waste. It forms a central part of WRAP's Love Food Hate waste campaign which raises awareness of the issue of food waste from the home and offers practical support and advice to the public to help them take action and save money. The Fresher for Longer schools programme has been created and delivered by Global Action Plan, a United Nations endorsed environmental charity, which has worked with over 3,000 schools across the UK.
Each of the ten schools that participated in the programme this year has been sponsored by a packaging company or organisation based locally to the school.
The companies involved were:

Alexir (Kent)
Ardagh Group (Glass) (Yorkshire)
Metalbox Benevolent Fund (Nottinghamshire)
DS Smith (Wales & Cambridgeshire)
LINPAC (Yorkshire)
Nampak Plastics (Buckinghamshire)
Sealed Air (Derbyshire)
RPC Group (Northamptonshire)
Fresher for Longer Impact in numbers

Over 195 students across 10 schools have led the battle against food waste.
Through a total of 27 challenges, the students have shown how packaging can help reduce food waste.
Students have reached over 50,000 people with Fresher for Longer message.
25 STEM Ambassadors from local sponsoring packaging companies have supported schools along the way 90 hours of sustainability workshops have been delivered to students across England and Wales.
About The Alexir Partnership
With proven reliability, excellent quality and innovative packaging solutions, The Alexir Partnership is the only UK owned company that offers a complete design to delivery service in the food packaging and co-manufacturing industry.
http://www.alexir.co.uk
Contact details
Claire Summersby, Marketing Manager and Head of Innovation,
+44 (0)1732 866681
csummersby(at)alexir(dot)co(dot)uk
About Global Action Plan
Global Action Plan is an award-winning environmental charity providing the UK's only environmental behaviour change projects endorsed by the United Nations Environment Programme (UNEP). Since 1993, we've helped over 750,000 people make practical changes that create environmental savings in businesses of all sizes, as well as communities, schools and with young people. http://www.globalactionplan.org.uk.
Contact Details
Christine Kinnear: Principal Programme Manager – Corporate Communications
020 7420 4434 christine.kinnear(at)globalactionplan(dot)org(dot)uk