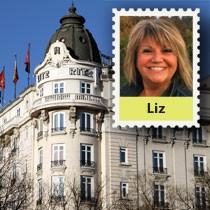 Boomers possess three key elements that the travel industry is looking for: Time, Flexibility, and Money.
New York, NY (PRWEB) May 29, 2015
Forget bingo night, rocking chairs, or any other stereotypical metaphors used to describe the Baby Boomer generation. Today's "boomers" are healthier, wealthier, and more active than ever and when it comes to travel they are looking for fun and adventure wherever they can find it. Often overlooked when promoting adventure travel and other "fun" activities relegated only to millennials, boomers possess three key elements that the travel industry is looking for: Time for extended travel, Flexibility to take advantage of special deals, and Money. In fact, boomers control approximately 70% of discretionary spending in the U.S.
Earlier this month, ExpertFlyer went One-on-One with Liz Dahl, founder and president of BoomerTravelPatrol.com to discuss why she created the site and how her 15 "patrollers" – experienced contributors – are sharing a wide variety of opportunities beyond the "bus tours and cruises." A former travel agent and fellow boomer herself, Dahl saw the opportunity and need to create a travel site specifically for the 50-plus crowd, and with quite a bit of success.
"We're their peers and present the information for free and from a Boomer perspective," Ms. Dahl explains. "For example, we know from experience that multi-generational trips are big with our demographic. They want to share their experiences with their kids and grandkids and we offer them many ways they can do that, along with many other travel opportunities."
During the interview, Ms. Dahl offered her perspective on the travel industry, differences between boomer travel interests and today's millennials, as well as her thoughts about how the industry should probably focus more of its marketing and advertising dollars on boomers.
"BoomerTravelPatrol is a great example of how a company has identified a specific niche within the travel industry – and a rather sizable one at that – and created a customized website targeting their travel interests," explains Chris Lopinto, president and co-founder of ExpertFlyer.com. "It builds loyalty, interaction, and very happy customers and in the end, isn't that what we are all striving to accomplish?"
For those Boomers interested in sharing their experiences with others, BoomerTravelPatrol.com has a special Guest Patrol area where travelers can share their travel experiences with the BTP community.
To read the entire interview with Liz Dahl, please visit ExpertFlyer's blog.
About BoomerTravelPatrol.com
Boomer Travel Patrol consists of editors from a variety of areas and backgrounds who love to travel, will share their experiences from a Boomer perspective and invite you to participate by contributing your recommendations, tips and favorite places.
The Boomer Travel Patrol was a concept created by Liz Dahl, a former travel agent and public relations consultant who felt baby boomers were not in the coveted demographic of 18-49 and therefore left out of the "fun" activities when it came to travel. We love bus trips and cruises, but there's more to see and do and we have the time and means to explore the world. Liz teamed with fellow baby boomer, Don Anderson, an IT Specialist, so the website is truly by and about boomers. You will find ideas, tips, locations, food and a variety of information on virtually any place in the world. Please enjoy navigating the site and share your travel experiences with us as well.
About ExpertFlyer.com
Each month, ExpertFlyer's One-on-One blog goes face-to-face with the travel industry's leading decision makers to discuss and address topics relevant to many of today's business and frequent travelers.
ExpertFlyer.com was conceived and created by an eclectic team consisting of a veteran elite tier frequent flyer, an airline captain and corporate travel manager, and information technology professionals to deliver a 24/7 real time powerful air travel information service. The company provides its subscribers and corporate travel managers alike with a complete, concise and efficient way to access the ever-changing details of worldwide air travel information. For more information, please visit expertflyer.com.
Stuck in the middle seat again? Download the free Seat Alerts app from ExpertFlyer and get the window or aisle seat without hassle or frustration.
# # #