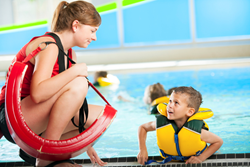 Lincoln, RI (PRWEB) May 28, 2015
As the summer approaches, many people will head to the pool or beach to keep cool. It's important to make safety a top priority, however, and that's why Amica Insurance is sharing some swimming tips.
According to the Centers for Disease Control, 10 people die from drowning every day in the United States, not including boating incidents. Additionally, the National Safety Council says drowning is the leading cause of death for children ages 1 to 4.
Amica is sharing the following tips from the American Red Cross to help promote safe swimming:

Always swim with a buddy in designated areas that are supervised by lifeguards.
Never leave a young child unattended around water, and do not trust a child's life to another child.
Have young children or inexperienced swimmers wear U.S. Coast Guard-approved life jackets near water.
If you have a pool, secure it with the proper barriers to prevent children from falling in.
If a child is missing, always check the water first. Seconds can make the difference in preventing disability or death.
Have the appropriate accessories nearby in case of emergency. That includes reaching/throwing equipment, a cellphone, life jackets and a first-aid kit.
About Amica Insurance
Amica Mutual Insurance Co., the nation's oldest mutual insurer of automobiles, was founded in 1907. The company, based in Lincoln, Rhode Island, is a national writer of auto, home, marine and umbrella insurance. Life coverage is available through Amica Life Insurance Company, a wholly owned subsidiary. Amica employs more than 3,400 people in 44 offices across the country. For more information, visit Amica.com.
CONTACT: Vince Burks, Corporate Communications, 50 Amica Way, Lincoln, RI 02865-1155, 800-652-6422, ext. 24563
Twitter: Amica
Facebook: Amica Mutual Insurance Co.