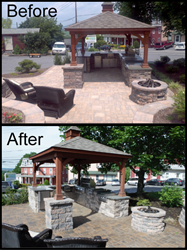 EWBN is a certified installer of the Seal'n Lock system, an organic acid cleaner that is user friendly and environmentally friendly.Add a quotable
Leola, PA (PRWEB) May 29, 2015
Concrete pavers make for a beautiful walkway or patio; there are many different styles, colors, and patterns. As time progresses, most pavers become worn overtime. This is a natural process for pavers, however this process can be delayed by installing a sealer that places a protective layer over the paver. Not only does it preserve the beauty of the paver, but also gives the paver a beautiful face.
Working in hardscape for 13 years, Eagle Wings Business Network (EWBN) has experienced, firsthand, the benefits to sealing pavers. EWBN is a certified installer of the Seal'n Lock system, an organic acid cleaner that is user friendly and environmentally friendly. There are two different types of sealers that Seal'n Lock provides; natural luster, which gives the paver a natural beautiful look, and super wet, which places a gloss over the paver.
Similar to cleaning and polishing wooden floors, or taking care of a personal vehicle, concrete pavers need care to preserve their life and beauty. The pavers can be cleaned and sealed after a year of the original installation of the patio or walkway. Why wait a year? To ensure the efflorescence –a white chalk substance caused from naturally occurring salts in the raw materials of the pavers – has left the paver. This prevents the efflorescence from becoming sealed into the paver, resulting in permanent white spots on the pavers.
The cleaning process is done by applying a liquid cleaner to the paver, and then washing it down. Another method is using heavy-duty hot pressure washers. There are situations where both of these steps are necessary to ensure the paver is properly cleaned and prepared for the sealing. Once the cleaning is completed, sand is applied to fill in the seams between the pavers where the sand may have settled or been removed from the cleaning process.
Next, the liquid sealer is applied through a high volume low pressured piece of equipment. Most pavers need two or three treatments to fully penetrate the face of the paver.
The company is experienced and well trained to assist any customer in bringing the beauty back into patios or walkways. For information on EWBN, visit http://www.EWBN.net