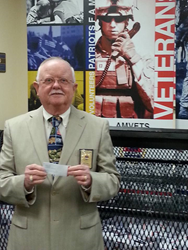 Lanham, Md. (PRWEB) May 28, 2015
AMVETS leaders this week congratulated AMVETS 2015 Memorial Day Weekend Sweepstakes grand prize winner Robert Davis of Newark, Del. AMVETS National Commander Larry Via personally called Mr. Davis to congratulate him on winning the $10,000 sweepstakes grand prize.
AMVETS selected the 10 lucky sweepstakes winners from over 100,000 entries from around the country for prizes ranging from $500 to the $10,000 grand prize. The drawing took place on May 21 at the AMVETS National Headquarters in Lanham, MD.
Proceeds from the sweepstakes will help support AMVETS' continuing mission to deliver quality of life programs for veterans and their families. Be sure to look for the next AMVETS Sweepstakes entry form in the mail in September 2015.
2015 Memorial Day Weekend Sweepstakes winners:
$10,000.00 – Robert Davis, Newark, DE
$5,000.00 – Rita Ludlum, Skillman, NJ
$2,500.00 – Anthony J, Picciuto, Grosse Ile, MI
$1,000.00 – Steven R. Clark, Lakewood, OH
$500.00 – Alice S. Dempsey, Barboo, WI
$500.00 – Gerald Maccombs, Elyria, OH
$500.00 – Gary E. Haines, Middleton, NH
$500.00 – Robert H. Boyd, Orange City, FL
$500.00 – Charles David Petty, Callaway, FL
$500.00 – Les Henriksen, Fort Wayne, IN
About AMVETS:
A leader since 1944 in preserving the freedoms secured by America's armed forces, AMVETS provides support for veterans and the active military in procuring their earned entitlements, as well as community service and legislative reform that enhances the quality of life for this nation's citizens and veterans alike. AMVETS is one of the largest congressionally-chartered veterans' service organizations in the United States, and includes members from each branch of the military, including the National Guard and Reserves. To learn more visit http://www.amvets.org.