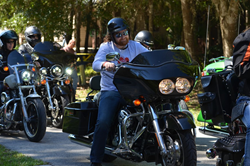 My family and I are looking forward to another successful Bruce Rossmeyer Ride for Children on October 4! My dad loved Camp Boggy Creek and this Ride meant so much to him. -- Mandy Rossmeyer Campbell
Eustis, Florida (PRWEB) May 28, 2015
Registration is now open for The 21st Annual Bruce Rossmeyer Ride for Children, presented by Hamlin & Associates. This weekend motorcycle event will be held on October 3 and 4. All funds raised will benefit Camp Boggy Creek, which is dedicated to enhancing the lives of children with serious illnesses and their families by making it possible for them to experience the adventure of camp, at no cost to their families.
On Saturday night, October 3, The "Bluegrass, Blue Jeans and BBQ" gala will be hosted at Destination Daytona. This year, Gib Dannehower will be inducted into the Bruce Rossmeyer Hall of Fame for his outstanding commitment to the Ride for Children and Camp Boggy Creek. Attendees will enjoy delicious BBQ and toe-tapping bluegrass music the night before the Ride. On Sunday, over 600 motorcycle riders will take a "no feet down" police escorted ride from Destination Daytona in Ormond Beach to Camp Boggy Creek in Eustis. Once there, riders will enjoy a complimentary lunch provided by Outback Steakhouse, music, silent and live auctions and an opportunity to meet Camp Boggy Creek campers and their families.
Mandy Rossmeyer Campbell, daughter of the late Bruce Rossmeyer stated, "My family and I are looking forward to another successful Bruce Rossmeyer Ride for Children on October 4! My dad loved Camp Boggy Creek and this Ride meant so much to him. Please join us and help raise funds for the kids at Camp Boggy Creek!"
"We are very fortunate to have an exceptional Event Committee with John Hamlin serving as Chairman and Sandy Rossmeyer serving as Honorary Chair," shared June Clark, President and CEO of Camp Boggy Creek. "Loyal friends, riders and sponsors, dedicated to continuing Bruce's legacy of helping children with serious illnesses are to be commended for their continued support."
To date, other sponsors for this year's event include Daytona Harley Davidson, Outback Steakhouse, White's Site Development and JM & A Group. For more information about being a sponsor or to register for the Ride please visit http://www.rideforchildren.com or contact Jessica Shefferman at jshefferman(at)campboggycreek(dot)org
###
About Camp Boggy Creek
Founded in 1996, Camp Boggy Creek is a year-round medical camp for children with serious illnesses. Co-founded by actor/philanthropist Paul Newman and General H. Norman Schwarzkopf, the camp offers week-long summer sessions and family retreat weekends at no cost to the children or families. Located in Eustis, Florida, the 232-acre nonprofit serves children ages 7–16 that have been diagnosed with chronic or life-threatening conditions. The camp is entirely funded by generous donations from individuals, corporations, foundations and healthcare partners. Camp Boggy Creek is a proud member of SeriousFun Children's Network. Learn more by visiting campboggycreek.org.