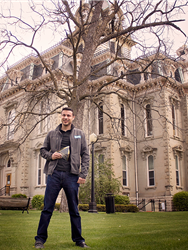 David believes in dreaming big...
Bloomfield, Iowa (PRWEB) May 29, 2015
David Birchmier, MPA's founder and CEO, recently received the Alumni Entrepreneur of the Year Award from Indian Hills College at the annual Vision Awards Ceremony. This award honors an Indian Hills graduate that is either operating their own business or was involved in an entrepreneurial project through their company.
At age fifteen, Birchmier and father built his first computer together in their basement. Fast-forward two years, MPA was born as a solution to helping friends and neighbors with their technology. What started as simply "fixing computers" quickly grew to become the largest Creative Technology company in southeast Iowa by 2011, now offering Managed IT Services and Application Development. David believes in dreaming big and, under his guidance, MPA has rolled out a comprehensive Managed IT program and launched numerous commercial products, seeing great success both nationally and internationally.
Birchmier graduated from Indian Hills in 2007, receiving an Associate of Arts and Sciences (AAS) degree, focusing on Information Technology, as well as an Associate of Arts (AA) degree with a focus on Business/Corporate Communications.
MPA specializes in IT services and consulting as well as Application development. The company continuously strives to make life better through technology innovation and creative solutions.