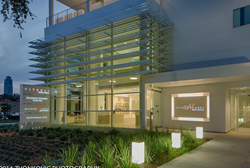 Houston, Texas (PRWEB) May 30, 2015
Thousands of aesthetic industry professionals converged in Montreal last week for 2015's Aesthetic Meeting, sponsored by the American Society for Aesthetic Plastic Surgery (ASAPS). Among the many industry vendors on hand was Zeltiq, the parent company of one of the fastest expanding brands in the aesthetic space, CoolSculpting. With blazing growth, the one-of-a-kind device just sold its 2 millionth treatment cycle.
Zeltiq is currently in the news for gaining the FDA's stamp of approval for their Cool Smooth Pro applicator. Using an even colder temperature setting than in their original CoolSculpting technology, treatment times can now be shortened by nearly 50% on areas such as the lateral thighs. Even more exciting, during this year's meeting, Zeltiq announced that they are on the verge of debuting their newest applicator, the CoolMini.
The CoolMini device is being promoted as a small volume, submental applicator; perfect for targeting the pesky double chin, which continually pops up in the beloved 'selfie'. Submental fullness was shown in a 2014 American Society for Dermatological Surgery (ASDS) survey to bother consumers equally as much as facial lines and wrinkles. That means incredible market potential for Zeltiq, as over 6 million people were treated for wrinkles with Botox Cosmetic last year. A multi-center study, following 60 male and female patients treated with the CoolMini prototype is currently being headed up by Dr. Burns, Dr. Kilmer, and Dr. Zelickson.
During May's meeting, Dr. Paul Vitenas had an opportunity to speak with the President and CEO of Zeltiq, Mark Foley. Among the topics of conversation was the breakout success that Mirror Mirror Beauty Boutique has seen with the CoolSculpting technology in the Houston market. An aide to Mr. Foley confirmed that a national pilot program, for direct-to-consumer advertising by Zeltiq, began at the start of this quarter. This is expected to extend into a full-fledged national campaign at some point in the quarters to follow.
Dr. Vitenas was given the opportunity to share key insights for further improving future generations of CoolSculpting machines with Mr. Foley. These ideas include making the boxes smaller, so that as practices grow and require more machines, they will have room to store them all. Currently, the dimensions of a CoolSculpting machine are between 1.5 – 2x the size of most other noninvasive devices. Given the surge in market demand he has seen over the last eight months, after introducing CoolSculpting to his practice with two machines, Dr. Vitenas made a request that Houston make its way into the direct-to-consumer campaign as soon as possible.
With more than 25 years of experience in both surgical and noninvasive procedures, Dr. Paul Vitenas is Board Certified by the American Board of Plastic Surgery. He is widely considered one of Houston's most prominent plastic surgeons. More information on CoolSculpting, or any other cosmetic procedure performed at Vitenas Cosmetic Surgery or Mirror Mirror Beauty Boutique, can be obtained by calling our office at (281) 810-9083.
Contact:
Mirror Mirror Beauty Boutique
4208 Richmond Ave, Suite 100,
Houston, TX 77027
(281) 810-9083
http://www.mirrormirrorhouston.com/