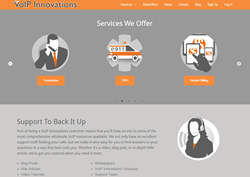 "Our goal is always to save our customers' time and be the industry leader of wholesale VoIP while at the same time providing excellent VoIP education. This new site's structure and product information heightens the experiences for our customers much more
Pittsburgh, PA (PRWEB) May 28, 2015
VoIP Innovations announced today that is has launched a brand new company website. The new site, created for a better user experience, has a streamlined organization, logical flow pattern, and easier navigation. It also features new custom graphics, leadership photographs, colors, and product services information.
With the launch of the new site, the user experience has been completely enhanced. Jason Tapolci, President of VoIP Innovations, says, "Our goal is always to save our customers' time and be the industry leader of wholesale VoIP while at the same time providing excellent VoIP education. This new site's structure and product information heightens the experiences for our customers much more than before."
Users can also expect to receive more information about the newly released Fraud Detection Service, register online for Enterprise or Wholesale Accounts, and experience a free online demonstration of its industry-leading wholesale VoIP BackOffice.
About VoIP Innovations:
VoIP Innovations is an Inc. 5000 company that specializes in providing the largest DID and termination VoIP footprints in North America. Their network includes over 500,000 DIDs in stock in over 8,500 rate centers in the US and Canada. Recently, VoIP Innovations expanded their footprint to include DIDs in over 60 countries and now offers A-Z termination. VoIP Innovations is owned by ABG Capital and is based in Pittsburgh, PA. To learn more, please visit the VoIP Innovations Blog.