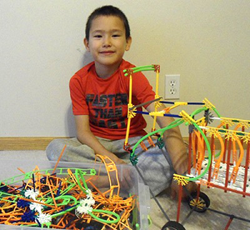 2015 K'NEXpert Search will award four creative builders a Grand Prize Package worth over $1000.
Hatfield, PA (PRWEB) June 08, 2015
K'NEX, the only US construction toy company focused on Building Worlds Kids Love®, is excited to announce its 16th annual K'NEXpert Search, launching June 8, 2015! The nationwide K'NEXpert Search challenges young builders to design and submit a creative, original model made entirely from K'NEX parts that will be judged on criteria such as, originality, creativity, and complexity of the model, given the age category of the entrant.
The contest will have 4 Grand Prize Winners, one from each of the four different age group categories. Age groups include: 5-6 years old; 7-8 years old; 9-11 years old; and 12-14 years old. The four imaginative Grand Prize Winners will each receive a prize package valued at approximately $1000.
This year, Grand Prize Winners will receive an amazing K'NEXpert prize package, which includes, among other things: $1,000 K'NEX credit code good toward a shopping spree at knex.com, K'NEX T-shirt, $50 birthday surprise, a personal photo gallery on knex.com, 25% discount on all K'NEX sets and parts valid throughout 2016, and an invitation to tour the K'NEX corporate headquarters to meet the designers and learn how K'NEX is made. An additional eight Finalists will each receive, among other things, a $250 K'NEX credit code good toward a shopping spree at knex.com, and a K'NEX t-shirt.
The K'NEXpert Search runs through August 28, 2015, with winners announced in October. Children can enter using the online registration form found on the K'NEX website, http://www.knexperts.com. Submissions must include up to 3 photos of the creation, and a short video or one-page summary describing how the child came up with the idea, how long the design took to build, and how many K'NEX pieces were used. For more information, view the Official Rules here: http://bit.ly/knexpertrules2015
A panel of judges comprised of K'NEX employees will select the Semi-Finalists from each age category; and then the Annual K'NEXpert winners will be determined by an online vote on http://www.knex.com. The online voting will begin on October 19, 2015 and continue through October 26, 2015.
The K'NEXpert Search is open to residents of the U.S. and Canada, except those of Puerto Rico, U.S. territories or possessions, the Province of Quebec, and where prohibited, who are 5 through 14 years of age as of June 8, 2015, and no purchase is necessary.
About K'NEX Brands
Founded in 1992, K'NEX Brands, the world's most innovative construction toy company, was established to make and sell what has become one of the world's leading integrated construction systems for children, and is America's STEM building solution. Winner of over 270 international awards and recognitions, K'NEX is focused on Building Worlds Kids Love® and encourages youngsters to "imagine, build and play." From the living room to the classroom, K'NEX has building toys specially designed for every age group and skill level. The K'NEX family of brands includes K'NEX Building Sets, K'NEX Thrill Rides, K'NEX Education®, Lincoln Logs®, Tinkertoy®, K-FORCE Build and Blast™, Mighty Makers™, Mario Kart Wii™, Mario Kart 7™, Mario Kart 8™, Super Mario™, PacMan™, Titanfall™, Family Guy™, Plants vs. Zombies™, and more. Since 1992, The Rodon Group®, a subsidiary of K'NEX Brands, L.P., has manufactured over 34 billion parts for the K'NEX building toy system. Join us as we help build the leaders of tomorrow. For more information, please visit http://www.knex.com.