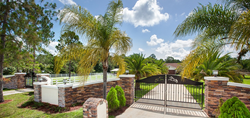 "I have been very impressed with the reach and results that Interluxe has been able to achieve for their clients" said Chris Lorenz with Premiere Plus Realty, Naples FL.
Charlotte, NC (PRWEB) May 28, 2015
Today, Interluxe is pleased to announce the sale of 460 29th Street NW, Naples, FL 34120. This remarkable property went under contract in less than 12 days after going on the platform and sold for $902,000 which marks the 4th highest sale in Golden Gate Estates in the past year and the 3rd highest price-per-square-foot achieved according to MLS records.
Real estate agents around the country are partnering with Interluxe more and more to auction luxury homes. "The stunning results displayed with 460 29th Street NW are a testament to the effectiveness of Interluxe online auction platform. Interluxe works, especially when paired with an exceptional listing agent," said Scott Kirk, President and Founder of Interluxe. "The local agents representing both the buyer and seller were both a pleasure to work with."
The property campaign yielded over 4,000 visitors to the property page on Interluxe.com from all 50 states and over 50 countries led by the US, Canada, China and the UK.
Interluxe has upcoming auctions in the Spring/Summer of 2015 in Naples, FL, Wisconsin, Vermont, North Carolina, Arizona and other desirable destinations across the United States and around the globe.
On June 29th, the next Naples, Florida auction will take place for a lot located at 1492 Blue Point Avenue in the prestigious Royal Harbor area. This corner lot in Oyster Bay has direct gulf access and is seconds to Naples Bay via boat. It is also walking distance to Olde Naples & downtown shops, restaurants, entertainment and beaches. This buildable lot offers a brand new seawall and can accommodate a single family home or up to three units. The listing agent for the property is Chris Lorenz with Premiere Plus Realty.
"I have been very impressed with the reach and results that Interluxe has been able to achieve for their clients, which is why I am excited to partner with them to auction this outstanding lot in Oyster Bay," stated Lorenz. "The seller is motivated to find a buyer for this property so they can pursue other opportunities and the online auction will be a fantastic way to let the market come forward and determine the price."
Interluxe's unmatched online property auctions platform have been proven to accelerate the sales process. Scott Kirk added, "We have created a platform that empowers agents to create results for their clients. Our accelerated online real estate marketplace is continually proving itself as a powerful resource for agents and sellers alike to connect with luxury real estate buyers. There is a definitive timeframe and zero risk."
Real estate agents and sellers seeking to learn more about Interluxe's online auction platform can learn more at http://www.interluxe.com
About Interluxe:
Interluxe.com is the next step in the evolution of the real estate auction industry. The streamlined and intuitive Interluxe online platform allows motivated sellers, qualified buyers and seasoned agents to purchase and sell luxury properties valued in excess of $750,000 in destinations all over the world at auction online. Interluxe's platform is the first of its kind to exclusively represent high end, non-distressed properties through an accelerated and customized marketing process that obtains fair market value for sellers in a 45-day timeframe. More information is available at http://www.interluxe.com