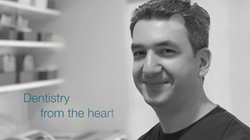 Among the many high­technology tools and procedures Dr. Umanoff has studied and used at his practice to maintain a high standard of patient comfort is the SIMPLANT Guided Surgery system
Brooklyn, NY (PRWEB) May 29, 2015
The world of dentistry had an image problem in the past. Scenes from old movies depicted dentists as sadists who dispense pain to people unfortunate enough to need to spend time in the dentist chair. What's more, when it came to surgeries, people would have to spend a lot of time in the dentist chair ­ but that's all back in the 20th Century now. Nowadays one need only look to Dr. Leonard Umanoff's dental practice in the Sheepshead Bay neighborhood of Brooklyn, New York to see why few people think of the dentist that way any longer, and to see how the dental arts have changed in the 21st Century.
Dr. Umanoff is a self­ described "lifetime student" of the arts and sciences of dentistry. Dr. Umanoff hails from Russia, and studied in Moscow before immigrating to the United States and becoming a doctor with NYU University degree. Dr. Umanoff's Brooklyn­ area dental practice first opened in 2001, and takes pride in helping patients and giving back to the Sheepshead Bay community.
Among the many high­ technology tools and procedures Dr. Umanoff has studied and used at his practice to maintain a high standard of patient comfort is the SIMPLANT Guided Surgery system. Computer ­aided drafting and manufacturing system for implants, that aids in precise drilling and installation through guided surgery. SIMPLANT is 3D modeling software that helps design and place implants into patient mouths. The 3D modeling helps to perform a lot of work up front, eliminating wait times for lab work that used to occur after the surgery.
Thanks to the SIMPLANT Guided Surgery system used by Dr. Umanoff, patients can walk out of the office after surgery with an "Immediate Smile" as a temporary crown can be designed and placed in a single visit, rather than the old way patients used to endure, requiring a separate office visit to have the temporary crown placed.
The system is used by top doctors across the country, like Dr. Umanoff, and as such, the SIMPLANT system is compatible with products from a number of different implant manufacturers. Dr. Umanoff works with implants from Bio­horizon, Bicon and Legacy; all are compatible with the convenience and precision offered by SIMPLANT. All in all, the SIMPLANT Guided Surgery system is compatible with the products of over 100 different manufacturers, and over 10,000 different types of implants.
The new system system works with state­ of­ the art medical and dental scanners, such as CT scanners and other intra oral and optical scanners, to create the 3D models used by Dr. Umanoff's practice to design the dental work. The SIMPLANT system, which was created in 1991, brings dentistry into the digital world, benefiting doctors and laboratories around the world.
The SIMPLANT 3D models are easily shared among a doctor's whole practice and to the laboratory, creating a faster, more efficient workflow. The patient will see an obvious benefit from less time spent waiting, and faster completion of dental work, but the SIMPLANT 3D models also help patients better make decisions leading to surgery. Rather than relying on doctor explanations and mental pictures, the SIMPLANT system offers patients the ability to see what will happen to their mouth, answering questions visually ­ the simplest way possible.
When it comes to the surgery itself, the SIMPANT Guided Surgery system makes it as easy as possible for dentists like Dr. Umanoff. The guides work with a number of different dental tools, and provide exact placement for drilling and screws, further shrinking any margin of error, and increasing the comfort and convenience of the patient.
While ease and efficiency might lead to happier dentists, it's the patients who are happiest. Thanks to systems like SIMPLANT 3D models, receiving temporary crowns immediately after surgery, and less time in the dentist chair, the old ideas that connected dentists to pain belong in the past.
###
About Dr. Leonard Umanoff, DDS
Dr. Leonard Umanoff, DDS has a practice in the Sheepshead Bay neighborhood of Brooklyn, NY. Born in Moscow, Dr. Umanoff studied dentistry at the Moscow Medical­ Somatological Institute before immigrating to the United States, and becoming a Doctor of Dental Surgery at the University of New York College of Dentistry. Dr. Umanoff opened his practice in Brooklyn, NY in 2001, where he offers his patients high­tech dental solutions in a comfortable, friendly atmosphere.
Contact:
Dr. Leonard Umanoff, DDS
(718) 382­3444
2277 Homecrest Ave, Suite LR
Brooklyn, NY 11229
http://www.drlUmanoffdds.com
About SIMPLANT Guided Surgery
The SIMPLEX Guided Surgery System is a computer aided drafting and manufacturing system, as well as a set of guides for the fast design, creation and installation of dental implants. The software for the SIMPLANT Guided Surgery System has been on the market since 1991. SIMPLANT is compatible with products from over 100 implant manufacturers, and over 10,000 kinds of implants. The SIMPLANT Guided Surgery System offers faster workflows among dental practices and laboratories, and allows unprecedented comfort and convenience to patients.