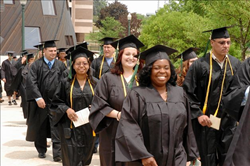 Deep in your hearts, I think all of you did this hard work over the years to become a better version of yourself.
New Britain, CT (PRWEB) May 31, 2015
Approximately five hundred and fifty members of the Class of 2015 received degrees during Charter Oak State College's commencement ceremony held today, Sunday, May 31, in Welte Auditorium at Central Connecticut State University in New Britain, CT. Two hundred graduates were in attendance. Connecticut radio personality Colin McEnroe was the commencement speaker. A live webcast of the ceremony was hosted on http://www.CharterOak.edu. Charter Oak State College is Connecticut's public online college.
Charter Oak President, Ed Klonoski addressed the graduates.
In his remarks, President Klonoski congratulated the graduates for finding a way to persist through life's interruptions and re-inventing themselves on the way to their college degree.
"Let me begin by congratulating all of you on your achievement. Most of you have arrived at this moment along a non-traditional path, often after a number of false starts, and over far more than the usual number of years. You represent a wide range of ages, but none of you thought it was too late to finish your degree.
"Deep in your hearts, I think all of you did this hard work over these long years to become a better version of yourself. Your College degree is certainly going to return value in your career and I think your act of re-invention is going to pay dividends in parts of your life beyond your job."
The student speaker was April M. Cox, of Barrington, RI. Cox says she selected Charter Oak due to the flexibility provided and the ability to maximize her options to earn her degree quickly. "My goal was to finish my Bachelor's as quickly as possible in order to realize my dream of getting into an MBA program. I needed the flexibility and guidance that Charter Oak provided. They took my previous credits, gave me options to utilize my life experience and awarded me college credit for my certification in Project Management."
Awards presented to Class of '15 graduates
The Doris G. Cassiday Award is given to those graduates of Charter Oak who have achieved excellence in innovative learning and who exemplify the essence of the Charter Oak mission. With this award, the College recognizes individuals who avail themselves fully of a broad range of learning options, earning credits both inside and outside the traditional classroom setting. These options include distance learning, testing, portfolio assessment, contract learning, military service school courses and other non-collegiate sponsored instruction, which has been evaluated for credit, as well as classroom instruction.
2015 Doris G. Cassiday Award recipients included:
April M. Cox, Barrington, RI
Andrew M. Durham, Portland, TN
Natali C. Elfenbein, Dallas, TX
Scott J. Farrell, Brookfield, CT
LaVonda M. Krout, Williams, IN
Scott J. vonFischer, Cheshire, CT
Awards for Outstanding Academic Achievement were presented to:
Charter Oak State College Honors:
Peter K. Courtway, Bethel, CT
Max E. Russell, Orange, CT
General Scholarship Honors: Associate Degree Michele E. Millard, Greensboro, NC
General Scholarship Honors: Baccalaureate Degree Emanuel King, New Holland, PA
***
Founded in 1973, Charter Oak State College (http://www.CharterOak.edu) is Connecticut's only public online college, offering associate and bachelor's degree completion programs in high-demand fields including Health Information Management, Health Care Administration, Cyber Security, Business Administration, Public Safety and Information Systems. Charter Oak students complete degrees through online courses and alternative approaches to earning credit. Charter Oak is accredited by the New England Association of Schools and Colleges and governed by Connecticut's Board of Regents for Higher Education.