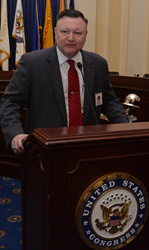 [his] perspective is veteran-centered and expert-driven. He is an excellent choice to ensure the best health care choices for veterans all across the country" -- Senator Mitch McConnell
Lanham, Md. (PRWEB) May 28, 2015
AMVETS National Executive Director Stewart Hickey has been selected to serve on the Commission on Care established by Congress to examine how to best deliver health care to the nation's veterans.
Appointed to the commission by Mitch McConnell, majority leader of the U.S. Senate, Mr. Hickey will be one of only 15 voting members on the panel, which was established by the Veterans Access, Choice and Accountability Act of 2014. The goal of the commission is to examine how best to strategically organize the Veterans' Health Administration, locate health care resources and deliver care to veterans.
"Stewart's perspective is veteran-centered and expert-driven. He is an excellent choice to ensure the best health care choices for veterans all across the country," said Senator McConnell. McConnell appointed Stewart for his military service and executive leadership in health care administration and the non-profit, veteran service organization sectors, noting he adds a valuable balance of professional expertise and first-person experience to the Commission's due diligence and understanding in evaluating access to care throughout the VA health care system.
Since 2011, Major Stewart M. Hickey, United States Marine Corps, (Retired) has served as AMVETS National Executive Director where he operates the nation's fourth largest congressionally chartered veterans service organization and its subordinate organizations, and the daily advocacy of issues affecting veterans, national security, foreign affairs and the economy. Previously Mr. Hickey was chief executive officer for the Hyndman (Pa.) Area Health Center, a multi-site community health center providing medical and dental services to several counties of Pa, WV and Md. His health care administration includes as Chief Human Resources Officer and Chief Operating Officer of Western Maryland Hospital Center in Hagerstown, Md., a 123-bed JCAHO accredited, long term care and sub acute hospital with rehab, OT, PT and Respiratory care.
Mr. Hickey received his Bachelor of Arts in History from Penn State University, and his Master of Arts degree in Management from Webster University. He enlisted in the Marine Corps Reserve in 1977 as an infantryman, and his commission in1978. Major Hickey served in Operation Desert Storm and Desert Shield and was awarded a Bronze Star Medal with Combat "V" for his achievements as Commanding Officer, Company D, Third Tank Battalion, Task Force RIPPER, 1st Marine Division, I Marine Expeditionary Force, Saudi Arabia from Sept. 1990 to Feb. 1991.
Stewart Hickey resides on his family farm in Cumberland Valley Township (Bedford Co.) and in McConnellsburg, Pa. He and his wife Ellen have five children: Monroe, Ali, Charles, Andrew, and Bryce. Three of his sons, Andrew, Monroe, and Charles, followed their father's path and currently serve in the United States military.
About AMVETS:
A leader since 1944 in preserving the freedoms secured by America's armed forces, AMVETS provides support for veterans and the active military in procuring their earned entitlements, as well as community service and legislative reform that enhances the quality of life for this nation's citizens and veterans alike. AMVETS is one of the largest congressionally-chartered veterans' service organizations in the United States, and includes members from each branch of the military, including the National Guard and Reserves. To learn more visit http://www.amvets.org.