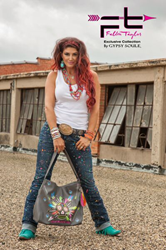 I like to fly my freak flag, I love neon, and this line is sort of like a cowgirl runway.
WEATHERFORD, TX (PRWEB) May 28, 2015
Gypsy Soule® reined in 2015 World Champion Barrel Racer Fallon Taylor as the face of their new women's line of splatter paint jeans, handbags and jewels. Taylor is best known as the fearless, dark-eyed beauty who has qualified six times for the Wrangler National Finals Rodeo in barrel racing, first competing in the World Championships at age 13—she was one of the youngest qualifiers ever. She's also known for her careers as a model and actress as well as for her neon sense of style.
"Gypsy Soule's style is parallel to my style," says Taylor. "We joined forces on this new line because the women behind Gypsy Soule® have an amazing fashion sense—it's rebellious. I like to fly my freak flag, I love neon, and this line is sort of like a cowgirl runway. I'm proud to add my name to Gypsy Soule® because I think the company stands for empowering women and it's run by two strong women. I love their #hashtag, 'Women who live by their own rules.' I am proud to represent them and I appreciate everything they stand for."
Rodeo fans can attest to Taylor's wild, unforgettable clothing—she's remembered for streaking across rodeo arenas in bright, tie-dyed, fringed clothing and equally colorful cowgirl hats. She and Gypsy Soule® are "bringing the bright" with splashy jeans, purses and jewelry. Taylor says everything in the new Gypsy Soule® line-up is perfect for inside the arena and out on the town.
"‪We are excited about the Fallon Taylor line and our collaborative efforts because she embodies 'the woman of confidence' Gypsy Soule® products have come to represent," says Gypsy Soule® President, Lorinda Van Newkirk. "We want to continue to communicate that the Gypsy Soule® brand encourages and inspires women to freely express their unique sense of style, and Fallon's flashy style and dynamic personality are a perfect fit for us."
ABOUT GYPSY SOULE®:
The Gypsy Soule® fashion brand empowers a woman with confidence. Dressed in shoes, clothing and accessories that communicate her unique sense of style, the Gypsy Soule® woman radiates originality, fulfillment and freedom—her genuine "gypsy spirit" literally sparkles, inside and out!
‪Founded in 2003, the brand is mostly known for Gypsy Soule® footwear—the most fashionable, flashy, flip-flop collection the world has ever seen! Today the brand also offers a variety of products including handbags, jewelry and a line of well-made, good-fitting jeans. Gypsy Soule® products are sold in a variety of stores across the country.
For samples or additional information, please visit http://www.gypsysoule.com or contact chelsea(at)chicblvd(dot)com
Contact:
ChicExecs PR
http://www.chicexecs.com
1487 Poinsettia Ave. Ste. 125
Vista, CA 92081
310.569.6586
ChicExecs PR is an "out of the box" PR company which represents over 70 clients. ChicExecs has created an innovative approach to PR dedicated to helping small-medium businesses receive media coverage. Our revolutionary automated system is changing the face of PR. To learn more about ChicExecs visit http://www.chicexecs.com.
If you would rather not receive future communications from Chicblvd Inc, let us know by clicking here.
Chicblvd Inc, 1487 poinsettia ave #125, Vista, CA 92081 United States