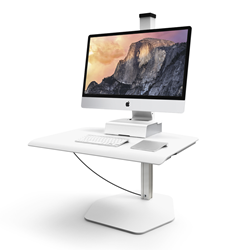 Easton, PA (PRWEB) May 29, 2015
Innovative Office Products (http://www.lcdarms.com) is joining NeoCon 2015, the largest premier exposition and conference for commercial interiors and contract furniture in the country. This year's NeoCon will be held at the Merchandise Mart in Chicago, June 15-17.
During the show, Innovative will be featuring the new Winston Workstation for Apple iMac, the Bild multi-monitor solution with pole mount, as well as several of our most popular commercial office products, including the 7000 monitor arm, EVO monitor arm, and the original Winston Workstation. Visitors to NeoCon can view these products at Innovative's booth (#8-3066C).
Winston Workstation for Apple iMac offers the same health benefits of Innovative's original sit/stand workstation, but is designed for the Apple iMac user. Winston Workstation for Apple iMac features a secure location to hold the iMac stand, so Apple users can enjoy standing while working throughout their day without having to sacrifice the interface that works best for them. Like the original Winston Workstation, Winston Workstation for Apple iMac offers an expansive work surface, easy push-button height adjustment, and a locking cylinder to prevent unwanted movement while working.
Along with Winston Workstation for Apple iMac, Winston Workstation will be showcased during NeoCon. Built for wellness and productivity, Winston Workstation provides users an easy way to incorporate standing into their day, reducing time being sedentary while at work. Winston Workstation is available in single, dual, triple, and quad mounting solutions and is the only sit/stand solution on the market available in three or four monitor configurations. Both Winston Workstation and Winston Workstation for Apple iMac are able to retrofit to any current desk, eliminating the expense of purchasing an entirely new desk system.
The award-winning Bild multiple monitor mount now comes in a pole mount format. Adding to the endless configuration possibilities offered by Bild, Bild pole mount allows users to install monitors front and back along a flexible pole mount. Ideal for open workspace benching systems, Bild pole mount enables users to design a monitor mounting system to fit their space, featuring hinges on the end of the mount extrusions that can accommodate the desk area.
Two of Innovative's legacy products will also be featured at NeoCon: the 7000 monitor arm and the EVO monitor arm. The 7000 monitor mount provides ergonomic comfort while suspending flat panel monitors above the desk, offering space-saving functionality to the desk. The EVO monitor arm features a sleek design and modern look for stylish office spaces. This ergonomic monitor arm form is enabled through the Better Balance System, which provides a constant force across the monitor arm's range of motion, allowing users to adjust the monitor and arm as needed to work in better comfort.
To register for NeoCon 2015, click here.
About Innovative Office Products
Innovative Office Products is an award winning market leader of monitor and tablet mounting solutions designed and manufactured to provide the best in flexibility, space savings and ergonomic benefit. Innovative leads the way in exceptional quality by combining product performance with award winning design. All products are tested to meet or exceed BIFMA standards and are backed by a manufacturer's warranty. Innovative strives to reduce environmental impact through standard design and manufacturing procedures. Innovative assembles products in the U.S.A. at their manufacturing facility in Easton, PA.
For more about Innovative Office Products, visit: http://www.lcdarms.com or follow us on Facebook, Twitter, Google+, LinkedIn, and our blog.