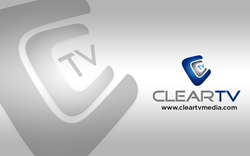 Burbank, CA (PRWEB) June 03, 2015
ClearTV Ltd., a Bermuda company whose holdings include a US-based operator of television networks installed in select, high-value, away from home locations, is successfully expanding its sales department and hired ad industry veteran Mark Papia as the new Chief Revenue Officer of the company.
Papia, who is a 30-year veteran of the ad business, has held jobs at ABC and Fox, as well as Yahoo and MySpace. Most recently, Papia was head of North American Sales for AdParlor, the Facebook Marketing Platform Partner and Twitter Ads API Partner. According to Papia, social media will be an important part of ClearTV Media's go-forward strategy, in addition to contextual and geographical targeted digital media.
"As multi-media becomes more central to the ClearTV Media mission, we are choosing to turn revenue generation over to someone who has extensive experience on both the traditional and digital sides of the advertising ecosystem," says ClearTV Media CEO Henry Mauriss. "Mark's skill set is perfectly suited for ClearTV Media's needs during this growth phase in our life cycle."
ClearTV Media manages the content and advertising displayed on video monitors in six airports around the U.S, including Denver International Airport (DEN.) Over the next two months two further airports (San Jose Mineta International (SJC) and Reno/Tahoe International (RNO)) will be coming online.
"The growing portfolio of ClearTV Media airport assets, coupled with the on- and off-line ad targeting that can be done around the travel experience, will create unrivaled multi-media advertising opportunities for brand marketers and awesome consumer experiences for our viewing audiences," says Mr. Papia.
About ClearTV Media
ClearTV Ltd., through its US-based operating subsidiary, ClearTV Media USA, Inc. ("Company", or "CTV"), operates television networks installed in select, high-value, away from home locations. The Company's broadcasts are all delivered via IPTV (Internet Protocol Television) to Airports. ClearTV also operates an online, digital video syndication business under the brand TVChannels4U. Our staff of editors generate an 18-hour daily broadcast of short-form, entertainment-centric programming, produced from world class content CTV receives from over 200 partners, including ABC, NBC, CBS, FOX, Scripps, and a host of cable companies and online productions.