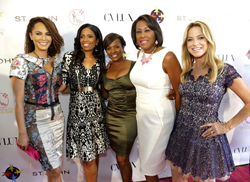 When you have a way to connect with thousands, and sometimes even millions, of people why wouldn't we tap into those resources?
Los Angeles (PRWEB) May 28, 2015
Community leaders, social media influencers, special needs advocates and fashionistas came together on May 17 to raise money and awareness for Special Needs Network (SNN), a leading nonprofit based in South Los Angeles working with children and families living with autism and other developmental disabilities. SNN's 7th Annual Pink Pump Event was held at the Montage in Beverly Hills and featured a Viva Las Vegas theme.
Pink Pump is an annual event held by SNN, drawing hundreds of attendees and support from across the nation and large corporate sponsors like Toyota and Walmart. Attendees were treated to a fashion show by upscale American fashion brand, St. John Knits and previewed St. John's fall line. Special Needs Network also honored special guests, actress and philanthropist Nicole Ari Parker; Good News Foundation representatives Pat Harvey, Dorothy Lucey, Ana Garcia and Leslie Miller; as well as Attorney General Kamala Harris and Bonnie Rubin from 1st Century Bank.
"Our organization is constantly striving to push a little harder, to push pass the barriers of status quo," explains Areva Martin, Esq., SNN's co-founder and president. "We want to be at the cutting edge. We want to lead our community in supporting those with disabilities. Whether it is through our events, our social media prowess or pounding the halls of elected officials, we will not stop until we ensure every child and family we serve has a voice and is heard."
SNN has been a leader in the nonprofit sector in connecting with its constituents like sponsors, donors, advocates and families by leveraging the power of social media. The week prior to the event, SNN hosted a Twitter Chat that creating an online trend with the organization's popular #pinkpump hashtag. The tag was tweeted more than 10,200 times, by over 2,200 contributors, viewed by more than 8 million people and created over 200 million online impressions.
"I am certain that our advocacy voice for children with disabilities has been amplified thanks to the power of social media," says Martin. "We use all of our social media channels to not only promote our events but to discuss current events, autism research and more."
"When you have a way to connect with thousands, and sometimes even millions, of people why wouldn't we tap into those resources?"
To follow SNN's advocacy efforts and to see pictures of the kids who will be able to attend the organization's summer camp for children with autism thanks to the funds raised at this year's Pink Pump event, be sure to follow SNN on Facebook, Twitter and Instagram. Links can be found at snnla.org.
Since its inception, SNN has worked with more than 35,000 children and families and is known as California's go-to organization for autism advocacy and supporting underserved populations, particularly the African American and Latino communities. Autism, which now impacts 1 in 68 children and 1 in 42 boys, is the fastest growing childhood disorder in the country. There are no known cures, but children who receive early intensive intervention services are more likely to be mainstreamed and ultimately live independently.
SNN invites anyone with questions or concerns about autism and other developmental disabilities to contact their office at (323) 291-7100 for information on available resources, programs and service providers.
About Special Needs Network
Special Needs Network is based in Los Angeles and is California's leading grassroots autism advocacy organization. As a nonprofit organization, SNN was established to help families faced with autism and other developmental disabilities. The organization focuses on raising public awareness, impacting public policy, increasing education and access to resources for families, children and adults. To learn more, visit http://www.specialneedsnetwork.org.