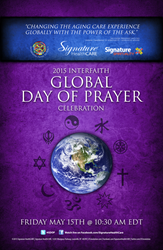 Louisville, KY (PRWEB) May 29, 2015
More than 1,000 people joined to participate in Signature HealthCARE's recent Global Day of Prayer celebration.
Signature HealthCARE is a for-profit nursing home operator and health care provider that embraces interfaith spirituality and prayer, and for several years has celebrated the National Day of Prayer with a synchronized, company-wide event held on the first Thursday in May. This year, Signature celebrated a day of prayer for the first time with a global focus, with representatives from several religions and faith traditions encapsulating a singular theme: "Changing the aging care experience globally with the 'Power of the Ask.' "
"We see the merging of public works, business innovation and spiritual pursuits, not just in service and works but a three-point prong of integration to establish thriving communities, prolific job opportunities, domestic tranquility and joy for all," said Dianne Timmering, Vice President of Spirituality and Legislative Affairs for Signature HealthCARE.
Representatives from nearly a dozen religions or faiths joined to recite prayer together, signifying spiritual diversity and the importance of prayer in daily life. Representatives include:

Fred Gross, Judaism
Johnny Alse, Hindu
Rev. Elwood Sturtevant, Unitarian Universalist
Rita Butler, Baha'i
Geshe Rapgyal and Anne Walter, Tibetan Buddhist
Rev. Susan EngPoole, Christian
Deacon Stephen Bowling, Roman Catholic
Syed Khader, Muslim
Terry Taylor, Quaker
The event was simulcast live to all Signature nursing homes, as they each hosted their own unique Global Day of Prayer celebrations. To view the event in its entirety, click HERE.
"The Global Day of Prayer was a most special day, breaking the rules of expectation with 'the power of the ask' in the healing of need," Timmering added. "It was great to have 1,000-plus streamlined together in prayer as a global community of ask. We are becoming a movement, that which is uncontainable."
Signature HealthCARE is a long-term care, health care and rehabilitation company with 126 locations in 10 states and approximately 20,000 employees. For more, visit LTCRevolution.com.