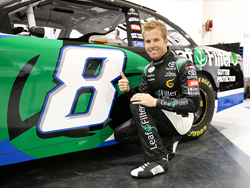 Hudson, Ohio (PRWEB) May 29, 2015
Blake Koch Ready to Tame "Miles the Monster"
Blake Koch has eight previous starts at the one-mile concrete oval in Dover, Del. After turning 690 laps so far in his NASCAR XFINITY Series career at Dover International Speedway, Koch's best finish came back in 2011 when he finished 21st. After his 23rd place finish last weekend in Charlotte, Koch is looking to get back behind the wheel at one of his favorite tracks.
Koch's thoughts on Dover International Speedway:
"Dover is a great track and it is one of the tracks that I look forward to coming to each year. We have LeafFilter Gutter Protection back on our Camry this weekend, so we are hoping to pull off a great finish at the "Monster Mile."
No. 8 LeafFilter Gutter Protection Camry: The No. 8 LeafFilter Racing crew will unload chassis No. 42 for the Buckle Up 200. Chassis No. 42 was previously run at Iowa Speedway.
Additional Notes:

This will mark Koch's 126th career NASCAR XFINITY Series start
Blake Koch will have a Q&A at the Buckle Up stage on Saturday at 9am
Career Stats at Dover International Speedway:
NXS: Starts: 8 Laps: 690 Best Finish: 21st
About LeafFilter Gutter Guards and LeafFilter North, Inc.
LeafFilter's design features a surgical-grade, stainless steel micromesh gutter protection system. The openings within the stainless steel micromesh are specifically sized so that only water is channeled into the gutters. The gutter protection system prevents the headaches of having to deal with roof and structural foundation that clogged gutters can cause.
LeafFilter is the #1 rated gutter guard system by two leading consumer publications. Along with receiving recognition from top publications in the nation, Leaffilter has received thousands of positive reviews from homeowners. For more LeafFilter Reviews, visit http://www.guildquality.com/leaffilter.
For more information about LeafFilter Gutter Guards, visit http://www.LeafFilter.com or call (800) 290-6106.