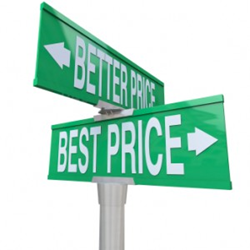 Insurance companies change their rates. This is the perfect time to get competitive quotes to see if you could be paying less.
Cerritos, California (PRWEB) May 29, 2015
A recent Boston Globe article on May 6, 2015 reports that Geico and Allstate are both raising their insurance premiums. When insurance companies raise their prices, drivers have some options. The first is to pay the higher premium and rearrange their finances to pay for it. The better option is to check rates through a comparison shopping website or company. These sites display the rates of top insurers to find the best price for your budget.
It's easy to get stuck in a rut with auto insurance, especially when drivers have few complaints about their current insurance company. But failing to do a car insurance comparison of rates at least once a year can cost a lot of money – potentially hundreds of dollars. An independent insurance agent can help consumers navigate through the field of insurance premiums and rates.
Why should drivers compare auto insurance? Here are some key reasons:
1. Car insurance needs may change:
Drivers' car insurance should grow as they grow; for example, a 22 year old will probably need different insurance than a 45 year old. Life circumstances, such as getting married, having kids, buying a home or purchasing a new car are perfect opportunities to compare rates.
2. Rates can vary:
The difference can be a few hundred dollars for older drivers with good records to thousands of dollars for younger drivers or people who have major violations or accidents, since each auto insurance company has its own formula for determining how such rating factors affect premiums. This means rates can vary considerably from one car insurance company to the next, even for the exact same type and level of coverage.
3. Insurance companies change their rates:
Such as the examples above with Geico and Allstate, insurance companies can change their rates. This is the perfect time to gather competitive quotes and possibly pay less for auto insurance.
What's the next step?
Take a few minutes to complete a simple online quote form to get instant comparison rates. The quote will be a range of top auto insurance companies' rates. Start an online quote or call 1-800-772-4247 now to compare rates and see if lower rates are available.
ABOUT AIS:
Auto Insurance Specialists, more commonly known as AIS, has been providing insurance coverage to customers for almost 50 years. One of the nation's largest independent insurance agencies, AIS is based in Cerritos, California and offers consumers a comparison shopping experience on a wide variety of insurance types, including auto, homeowner, renters, motorcycle, recreational vehicles, business insurance and more. In CA, AIS is Auto Insurance Specialists LLC | CA Insurance Lic 0524784; Outside of CA, AIS is PoliSeek AIS Insurance Solutions, Inc | CA Insurance Lic 0F51713 DBA AIS Auto Insurance Specialists Agency