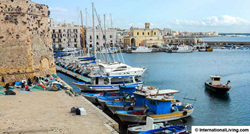 "The dollar is at a 12-year high against the euro right now, which means these already affordable destinations now offer truly amazing value," says InternationalLiving.com's executive editor Jennifer Stevens.
Baltimore, MD (PRWEB) June 02, 2015
A retirement in Europe is a dream many would-be expats assume comes with a high price tag. But that is not necessarily so these days, according to a new report from the editors at InternationalLiving.com. For people shopping with U.S. dollars, retiring in Europe today is more affordable than at any time in the last decade.
Europe offers rich culture, history, sophistication and—with today's strong dollar—affordable living as well. The InternationalLiving.com report points to the five best-value countries for a European retirement today.
"Each of the countries featured contradicts the dated view of Europe as a continent for the wealthy retiree alone. The dollar is at a 12-year high against the euro right now, which means these already affordable destinations now offer truly amazing value," says InternationalLiving.com's executive editor Jennifer Stevens.
"France is a wealthy, First World country, but the average French person only makes about $30,000 per year. Outside of high-glamor zones like Paris, Provence, and the sun-soaked towns of the Riviera, the cost of living and real estate can be surprisingly reasonable…yet the quality of life remains very high," says InternationalLiving.com's France correspondent Barbara Diggs.
France itself makes it easy for expats to enjoy life. A land of immense geographic, climatic, and aesthetic diversity, it offers something to please everyone: snow-white Alpine ski slopes, golden beaches and bright blue skies, rows of vineyards rippling up and down hillsides, picture-perfect medieval stone villages, vibrant cities crammed with museums, galleries, and restaurants.
"But there's another reason France makes life easy to enjoy," reports Diggs. "The country treats people as if they matter. France offers universal healthcare to its citizens and legal residents who qualify. What's more, pre-existing medical conditions are irrelevant to your ability to be covered, and out-of-pocket costs are extremely low."
"When it's time for me to retire, I'm putting the Languedoc-Roussillon region in the south on my short list," says Diggs.
Warm and sunny, with stunning landscapes that range from rugged to rustic, the Languedoc is often described as the "untouched" version of Provence, its famous next-door neighbor. It offers the same kind of beaches, lavender fields, and relaxed vibe…but is vastly more affordable.
"General expenses in the Languedoc are very reasonable. I know of an expat couple from the U.S. who lived in a small, beautiful village on just over $2,000 a month—and this was when the dollar was weak," Diggs reports.
In Spain, too, expats enjoy a laidback lifestyle at affordable costs. In fact, the country has long been one of the least-expensive in Europe. And today, with real estate prices at their lowest in decades and the euro weaker than it's been in years, Spain is a bargain for full- or part-time living.
Along many of Spain's coasts, one-bedroom apartments sell for under $100,000. More spacious one- and two-bedrooms go for $150,000 or so. Comfortable, furnished, long-term apartment rentals run as little as $550 a month.
Outside the country's tourist areas, Italy also offers North Americans a low cost of living.
"Leaving aside hotspots like Capri and Sorrento, the farther south you go, the more prices fall," says InternationalLiving.com's Europe editor Steenie Harvey. "The average monthly rent for a one-bedroom apartment in Milan is $1,000 and in Florence it's $700. But in Lecce, a flamboyantly baroque city in the Apulia region of Italy's deep south, it's $436," Harvey reports.
Utility bills are low is this area of the country too, averaging around $76 per month.
Apulia is the stiletto heel of Italy's elegant "boot"—a place of rustic beauty, this is the garden of the south. With around 500 miles of coastline, the area is washed by the Adriatic as well as the Ionian Sea.
"Whitewashed hill villages look down upon a patchwork of dry-stone walls, wheat fields, and fruit orchards. The colors are astounding: red earth, silvery-green trees, houses dripping with purple bougainvillea, and, from many places, the glimpse of the hypnotic, blue-green sea," Harvey says.
"The upside of living here is the low cost of living, the mild winters and the great food. Apulia is an Italy you'll fall in love with, and an Italy you can afford."
For a full report on the five most affordable countries to live in Europe, go here: Europe's Top 5 Affordable Retirement Havens. Also available: InternationalLiving.com's comprehensive 2015 Global Retirement Index which ranks the best retirement destinations in the world in eight relevant categories.
Editor's Note: Members of the media have full permission to reproduce the articles linked above once credit is given to InternationalLiving.com. Photos are also available.
Media Contact: For information about InternationalLiving.com content republishing, available source material or to book an interview for radio, TV or print with one of our experts, contact Associate Editor Carol Barron, 772-678-0287 (US), CBarron@InternationalLiving.com or visit the Media Center. For automatic updates on the most current stories, follow International Living Media on Twitter.
For 35 years, InternationalLiving.com has been the leading authority for anyone looking for global retirement or relocation opportunities. Through its monthly magazine and related e-letters, extensive website, podcasts, online bookstore, and events held around the world, InternationalLiving.com provides information and services to help its readers live better, travel farther, have more fun, save more money, and find better business opportunities when they expand their world beyond their own shores. InternationalLiving.com has more than 200 correspondents traveling the globe, investigating the best opportunities for travel, retirement, real estate, and investment.
###