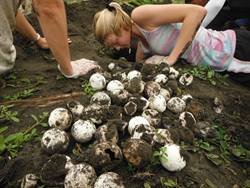 Change has to start at the grassroots level, one small step at a time as each person shares their newfound knowledge and experience.
Wilmington, NC (PRWEB) May 29, 2015
Sea Turtle Camp, a leading marine biology camp for teens ages 14-17, is offering a summer camp program in Costa Rica from July 6-19, 2015. Sea turtles abound in Costa Rica with six of the world's seven species found here. The beaches and waters are full of turtle observing opportunities, and campers will take full advantage.
Costa Rica is considered one of the most bio-diverse areas in the world, and much of this beautiful country has been set aside for conservation. As one of the safest international travel destinations in the world, Costa Rica's friendly locals are extremely welcoming to tourists.
Participants will spend 8 of their 14-day adventure on the Caribbean coast working with sea turtles during Leatherback and Green turtle nesting season. This experience will provide participants a unique opportunity to work at a sea turtle hatchery, conduct turtle patrols on the beach, spend time with recuperating turtles at a rehabilitation center, participate in data collection on nesting turtles, and learn Spanish from native speakers while giving back as they provide 20 hours of community service. The adventure continues with a whitewater rafting expedition on the world famous Pacuare River with stops along the way to zip-line and hike through the rainforest.
Our Costa Rica session provides campers opportunities to work with live sea turtles as well as participate in daily activities designed to teach through hands-on experience. Cultivating the students' interest, love, and appreciation for the environment and the natural world, Sea Turtle Camp leaders help to inspire a lifelong dedication to ocean and marine wildlife conservancy.
This real world immersion into the world of sea turtles is an enriching opportunity for any student interested in marine science. The chance to travel to this unique and exotic location and experience different cultures, marine habitats, and ecosystems makes this adventure even more valuable. "We hope to reach our campers, their families, friends and beyond," says Jen Civelli, founder of Sea Turtle Camp. "Change has to start at the grassroots level, one small step at a time as each person shares their newfound knowledge and experience."
About Sea Turtle Camp
Sea Turtle Camp offers marine biology camps at locations including Hawaii, North Carolina and Costa Rica. Watch a video on the program online: http://www.seaturtlecamp.com To learn more about the Sea Turtle Camp Costa Rica program, visit http://www.seaturtlecamp.com/costarica or download the catalog online at http://www.seaturtlecamp.com/docs/2015-Sea-Turtle-Camp-Catalog-WEB.pdf.