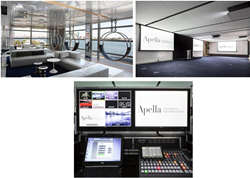 New York, NY (PRWEB) June 01, 2015
Apella, Event Space at Alexandria Center, New York City's leading innovative meeting and events facility with expansive East River views, announces a major upgrade to its state-of-the-art technology. As the first event venue space in Manhattan to install laser-illumination projectors, Apella will remain a leader in technology for years to come as more advanced video projection, audiovisual distribution and broadcast production technologies are available.
"In today's competitive climate, the use of cutting-edge, state-of-the-art technology is crucial when hosting meetings and gala events," says Jamie Dembeck, Apella's Director of Technology. "We invested in this significant AV upgrade to provide our sophisticated corporate and social clients with the technology that they need."
Apella worked with AV and technology firm Conference Technologies, Inc. to make key upgrades including three digital HIGHlite Laser WUXGA, 11,000 lumen projectors that project onto three 188-inch screens in the Apella 200 event space, the largest of Apella's ten meeting rooms that can accommodate 250 theater-style and 300 for a cocktail party or social event. The HIGHlite Laser projectors use an innovative, new laser-illumination technology to produce ultra-bright, accurate images suited for military simulation, medical and scientific visualization, major theatrical productions, and other high-end events where detail and color accuracy is critical.
A highlight of Apella 200 is its large glass walls overlooking the East River. These new projectors create presentations that can be viewed in bright light. "In the past, it was difficult to see projected images during the morning when the sun is very bright," explains Dembeck. "The extraordinary quality of the new projectors means that it is not necessary to drop the blackout shades or turn off the lights in the room. The presentation is crystal clear, the colors are vivid, and it's so much easier to use our facilities without losing our signature view."
The Apella 200 event space is also designed to be adaptable. During the week the space hosts mostly corporate events and symposiums and transforms for social events such as weddings, and bar/bat mitzvahs on the weekends. "We can change it in under an hour from a very corporate setting to a social setting, and all of a sudden it's a club or a lounge for a cocktail party," Dembeck states.
The three 11,000 lumen, laser projectors display 1080p content onto the screens with switching done through a production broadcast switcher designed for large sporting venue and theatrical events.
A Crestron AV distribution and control system was installed during the initial build-out in 2010, and another key upgrade includes installation of the more powerful Crestron DigitialMedia 8G+ receiver and room control system. The Crestron upgrade provides greater flexibility for larger events to seamlessly stream presentations from Apella 200 into overflow rooms.
The new Crestron equipment offers fast, efficient and seamless distribution and control of virtually every type of AV signal with the ability to handle unlimited devices, and stream to unlimited number of rooms. No matter what type of laptop or device is connected, the image will automatically scale to the proper aspect ratio of the screen at the highest resolution in every room.
"We like to give our presenters as much control and as much power as they want. A Crestron app can be put on a tablet, or a presenter can hand us their presentation and laptop. A lot of our clients want to be hands off – they trust us to run everything," adds Dembeck.
Apella, Event Space at Alexandria Center for Life Science is a leader in innovative meeting and event spaces in New York City. Accommodating up to 300 guests and offering ten thoughtfully designed private rooms, Apella features sweeping views of the East River and Manhattan skyline. Since its opening in 2010, Apella has been hosting the world's greatest intellectual and creative minds for summits, conferences and events. Arthur Backal, CEO and Founder of Backal Management Group that manages all events at Apella and oversees the catering operation of the Mandarin Oriental New York, has worked with some of New York's most renowned hotels including The Pierre and The Plaza, and he spearheaded the re-opening of the St. Regis, overseeing the food and beverage operations and serving as the director of catering.