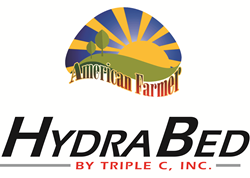 Sabetha, KS (PRWEB) June 01, 2015
Triple C announced today that they will be featured in an upcoming episode of American Farmer, airing later this year on RFD-TV.
From the humble, farm shop beginnings of the first Hydra Bed prototype in 1979, to the today's full line of rugged products, Triple C, Inc. has a long and strong history in livestock management equipment.
In this segment, American Farmer will explore how Triple C provides cow-calf producers with proven products manufactured to thrive in the tough conditions on North American ranches. Viewers will get an inside look at the company's product development process, which has always been driven by providing practical solutions to real ranch problems.
"The value of unrolling hay is something that has been known by cow-calf producers long before the invention of the Hydra Bed. The timid cows have a better chance to eat and, when unrolled properly, there is also much less wasted hay. These two factors along with the fact that nutrients are returned to the land are reasons the Hydra Bed can be a wise investment for any operation," states Jay Russell, Triple C General Manager. "We're pleased to have this opportunity to tell the story of the history of our company and how nearly every product we produce is a result of a real ranch need."
For more than three decades, Triple C has continued to build on a product legacy of durability, ease of operation and dependability that's esteemed by cattlemen and women across North America.
"Triple C's equipment has established a benchmark for innovation and ruggedness in the hay handling industry," said Kelly Fussell, Producer for the American Farmer series. "We are excited to educate viewers on their products."
About Triple C:
Triple C, Inc., of Sabetha, Kansas, is an equipment manufacturer specializing in hay handling and feeding equipment since 1983. Its core product is the Hydra Bed, the original flush-mount flatbed bale handler. The Hydra Bed, along with other Triple C products, were born on the founder's own ranch and rigorously tested through the day-to-day tasks of his cattle operation. Out of this pragmatic foundation have come many other innovations designed to practically and efficiently meet the challenges faced by livestock operations. For over thirty years, generations of ranch families across North America have continued to prove the rugged dependability of Triple C products.
For more information, visit: http://www.triple-c-inc.com.
About American Farmer:
American Farmer is a breakthrough program on a mission to showcase the latest advancements in agriculture and farming. From seed to harvest, livestock and more, our producers have traveled the country covering the people, places and issues impacting all areas of farm country.
American Farmer airs Tuesdays at 8:30am ET on RFD-TV. Check your local listing for show times.
For more information visit: http://www.AmericanFarmerTV.com. You can also contact Kelly Fussell at (866) 496-4065 x 850 or via email at: Kelly(at)AmericanFarmerTV(dot)com.