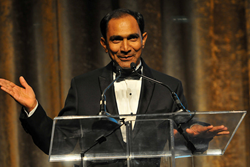 Morristown, NJ (PRWEB) May 29, 2015
Each year the National Minority Supplier Diversity Council (NMSDC) chooses the winners of its Catalyst Awards to honor a select few members who have enacted real change and been a source of inspiration and growth for their respective companies. Collabera, one of the nation's largest and fastest-growing IT staffing firms, is proud to announce that chairman Hiten Patel has been named a recipient of this year's MBE Catalyst award for minority owned enterprises.
"I am honored to receive this award recognizing the success of Collabera and my involvement in furthering the minority business community," Patel said. "Minority-owned businesses face many of the same challenges as non-minority-owned ones do, but we often must overcome additional obstacles. Working together to forge this strong collaboration for the betterment of our industries and diversity is good for us, it's good for business and it's good for our customers and employees."
Collabera has found massive success placing top IT professionals with leading technology companies ever since Patel risked his life savings to take it over in 1991, and it is now one of the largest IT staffing firms in America.
Accoring to the NMSDC, the MBE Catalyst award is presented to the owner of a minority-business enterprise (MBE) who has been actively engaged within the NMSDC network for five to 10 years. The recipient is a change agent who has demonstrated exceptional leadership in guiding their company to success, and shared their knowledge and wisdom with peers as a mentor. This individual has also contributed to the advancement of NMSDC's mission through their active engagement at the affiliate level and throughout the NMSDC network.
About Collabera
With more than 9,000 professionals across three continents and 39 offices, Collabera offers comprehensive, cost-effective IT staffing & services. We provide Fortune 500 and mid-size companies with high quality IT resources to meet talent needs through Staff Augmentation, Global Talent Management, Value Added Services through CLASS (Competency Leveraged Advanced Staffing & Solutions) Permanent Placement Services, and Vendor Management Programs.
Collabera has been a leader in IT staffing for over 24 years and is one of the largest diversity IT staffing firms in the industry. We are known for our high-touch, customer-centric approach, offering our clients unmatched quality, responsiveness, and flexibility. We are appreciated by our clients for our streamlined execution, highly efficient service and exceptional talent management that go above and beyond traditional staffing services.