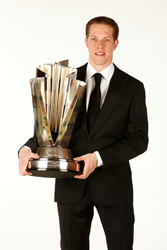 I look forward to my role on behalf of Webasto and sharing its message with our sport's loyal and passionate fan base - Brad Keselowski
Fenton, MI (PRWEB) June 16, 2015
Webasto Thermo & Comfort North America announced that they will partner with NASCAR champion and Rochester Hills, Michigan native Brad Keselowski in a multi-year promotional marketing campaign. Whether spending his time on the track racing for Team Penske or interacting on Twitter with his 560,000+ followers, Keselowski reaches thousands of truck drivers every day.
"It has always been very important for me to stay connected to my roots in Michigan, and I am thrilled to have the opportunity to align with an industry leader whose North American operations are based in suburban Detroit," said Keselowski. "With companies such as Freightliner and Alliance Truck Parts, among others, participating in NASCAR, it is undoubtedly a desirable audience for transportation-related brands. I look forward to my role on behalf of Webasto and sharing its message with our sport's loyal and passionate fan base."
Webasto Thermo & Comfort North America is one of the largest suppliers of heating, cooling and ventilation systems to the commercial truck, specialty vehicle, recreational and marine markets. "We're excited to begin this partnership with Brad," said Dr. Rolf Haag, Webasto Thermo & Comfort North America, President and Chief Executive Officer. "During our involvement at NASCAR events in 2014, it became clear to us that NASCAR fans are also some of our key customers. Not many people have achieved the level of accomplishment and generated as much interest as Brad has in such a short period of time. His elite level of performance and drive for success match those values of Webasto, making him the perfect partner for us, and will help increase awareness of our product."
Keselowski on the Webasto Stage
For the second year in a row, Webasto is proud to sponsor a stage featuring live music and entertainment prior to NASCAR races. To officially launch the new partnership, Keselowski made his first appearance to greet fans on the Webasto stage that was located in the midway of the Michigan International Speedway prior to the Quicken Loans 400 on June 14, 2015. Keselowski will also continue to make appearances on the Webasto stage at select NASCAR races throughout 2015 and 2016 to greet fans at the race track before he gets behind the wheel.
Additionally, Webasto aims to reach fans through a social media campaign featuring exclusive videos, images and personal posts from Keselowski throughout the remainder of the NASCAR Sprint Cup Series seasons.
Learn More
Webasto pioneered the development of fuel-operated air heating technology, introducing the world's first commercially available unit in the 1950's. The company produces more than a million heaters per year and remains a leading innovator of heating, cooling and ventilation systems for the transportation industry.
To learn more about Webasto products, and get up-to-date announcements about race appearance details, visit http://www.facebook.com/webastoheatingandcoolingus
###
About Webasto:
Webasto Group based in Stockdorf near Munich has been a family-owned business ever since the company was founded in 1901. The group operates internationally at over 50 locations (over 30 of these production plants) in the divisions roof and thermo systems. Webasto is one of the top 100 automotive suppliers worldwide. For 2014 the Group realized a sales volume of 2.5 Billion Euros and employs over 10,000 employees. The company's core competencies encompass the development, production and sales of complete roof and convertible systems as well as heating, cooling and ventilation systems for passenger cars, commercial and special vehicles, recreational vehicles and boats. For more information please visit http://www.webasto-group.com
Corporate Contacts
Webasto Thermo & Comfort North America, Inc.
Amanda Kopczyk
Ph. 810-593-6070
E-Mail: amanda.kopczyk(at)webasto(dot)com