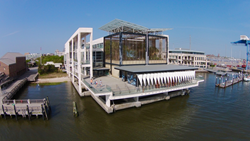 Charleston, S.C. (PRWEB) June 01, 2015
As summer vacation season is quickly approaching, there has never been a better time to become a South Carolina Aquarium member. During the month of June, those who enroll may enjoy a $10 off membership coupon.
Each Saturday this month, members' children who visit the Aquarium will receive a special prize (while supplies last). Membership provides families unlimited access to the Aquarium, which means the chance to experience fun all year long, as well exclusive event invitations and previews of new exhibits before they open to the public. Embark on an educational journey with your family and experience the wildlife that makes South Carolina's waters so special.
Membership benefits include:

Unlimited admission for one full year from date of purchase
Free admission to the 4-D Theater
Discount Sea Turtle Hospital Tour tickets
10 percent discount in the Aquarium Gift Shop
10 percent discount at the Aquarium's Sea Turtle Café
25 percent discount on souvenir photos
Monthly e-updates featuring exclusive details on events and special discounts
One full year subscription to tributaries, the South Carolina Aquarium's membership magazine
An official membership card and car decal
An unbelievable value, membership pays for itself in less than two visits. Levels include:

Family Plus: $209
Family: $169
Grandparent: $129
Individual Plus: $109
Dual: $109
Individual: $79
The Aquarium has a lot to explore this summer, including the new Shark Shallows exhibit that provides guests the amazing opportunity to get fingers to fins with sharks and rays in an impressive, 20,000 gallon touch tank. Guests can learn more about these ocean predators during daily shows while taking in the beautiful view of the Charleston Harbor.
Members also enjoy free admission to the unique cinematic experience that is our 4-D Theater. The 4-D Theater offers multiple showings per day and brings movies to life using sensory special effects, such as seat movement and wind gusts, which makes viewers feel fully immersed in the movie. This summer's family friendly, educational, and exciting films showing in the 4-D Theater are Ice Age Dawn of the Dinosaurs: The 4-D experience and Coastal Predators: A 4-D Experience.
Visit scaquarium.org to obtain a coupon that will take $10 off an annual membership (offer valid until June 30, 2015).
For all media inquiries, please contact Kate Dittloff at (843) 579-8660 or kdittloff(at)scaquarium(dot)org
About the South Carolina Aquarium:
The South Carolina Aquarium, Charleston's most-visited attraction, features thousands of amazing aquatic animals from river otters and sharks to loggerhead turtles in more than 50 exhibits representing the rich biodiversity of South Carolina from the mountains to the sea. Dedicated to promoting education and conservation, the Aquarium also presents fabulous views of Charleston harbor and interactive exhibits and programs for visitors of all ages.
The South Carolina Aquarium, a 501(c) (3) not-for-profit organization and is open Daily from 9 a.m. to 6 p.m. (last ticket sold at 5 p.m.). The Aquarium is closed Thanksgiving Day, half day Dec. 24 (open 9 a.m. to 1 p.m.) and Dec. 25. Admission prices are: Toddler's (0-2) free; Youth (3-12) $17.95; Adults (13+) $24.95. The Aquarium plus the 4-D Theater experience is free for Toddlers, $22.95 for Children, $29.95 for Adults. The 4-D Theater experience only is $6.95 for Children and Adults and free for Members. Military, senior, college and group discounts are available. For more information call 843-720-1990 or visit scaquarium.org. Memberships are available by calling 843-577-FISH.
###