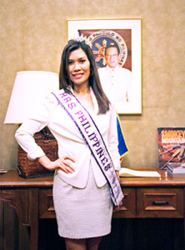 Bronx, NY (PRWEB) May 28, 2015
The partners of Urgent Care of Westchester and Riverdale Urgent Care are proud to present Dr. Alicia Almendral as their chief provider for advanced beauty treatments. She will be a big part of the newly opened facility's plan to offer all of Westchester County the very finest in modern cosmetic treatments.
Dr. Almendral is a board certified physician who is trained and experienced in the latest anti-aging and cosmetic enhancement techniques. Her areas of expertise include Botox, Dermal Fillers, facial aesthetics, acne treatment, and laser procedures. She finished medical school in 1998 and, currently, she also practices as a family physician at Urgent Care of Westchester. Dr. Almendral knows a thing or two about how to look your best, as she was named Mrs. Philippines International in 2013.
February marked the grand opening of Bella Diosa Laser Med Spa and the partnership bridges the medical services provided by Urgent Care with the state-of-the-art spa treatments provided by Bella Diosa for both women and men. This beautiful facility uses new machines and technology with proven results to provide high-quality treatments.
Conveniently located in Yonkers, New York, Bella Diosa offers any number of non-invasive skin treatments for skin tightening and rejuvenation. The spa offers customized treatments as well as a range of medical grade skin products that are known to show remarkable results. Services include Laser hair removal, Hydra Facials, chemical peels, stretch mark reduction, vein reduction and acne treatment, to name a few. Laser treatments can help improve skin health and appearance. In honor of the grand opening, Bella Diosa and Urgent Care of Westchester invite you to sign up for a free consultation and to take advantage of their limited time promotional offers.
About Urgent Care of Westchester:
Urgent Care of Westchester is conveniently located at 155 White Plains Road in Tarrytown, NY. At Urgent Care of Westchester, each staff member brings in-depth understanding, extensive experience and skills. In addition to treating life's everyday minor injuries, they offer drug testing, blood testing, vaccines, on-site X-rays, EKG, stitches and rapid in-house testing for flu, strep throat and mono. They can also perform physicals for DOT commercial drivers, camp, school and employment. The Urgent Care of Westchester clinic is open seven days a week – evenings, weekends and holidays, when most doctors' offices are closed. Appointments are never required – just walk in. The clinic is open 8 a.m. – 8 p.m. Monday – Friday and 9 a.m. – 3 p.m. on weekends. Call (914) 372-7171 today for more information.