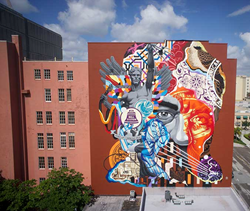 "This project brings a really vibrant urban aesthetic to Downtown West Palm Beach. We have a ton of cookie-cutter buildings built in the 2000's - I wish we had more historic buildings like this to bring back to life."
West Palm Beach, FL (PRWEB) June 02, 2015
The historically modern Alexander Lofts has partnered with Modern Living Real Estate to pre-lease it's trend setting apartments in Downtown West Palm Beach. This restored and redone six-story brick building features studios, one bedroom and two bedroom apartments ranging from 550 to 1100 sq. ft, all boasting large windows and soaring ceilings. The building holds a rich heritage, built in 1926, formally the old Southern Bell Telephone regional headquarters. Honoring it's history, RAM Development appropriately named the building Alexander Lofts after the Bell Telephone Company's famous inventor, Alexander Graham Bell.
What is so special about this project? "Alexander Lofts is something unique and fresh to Downtown West Palm Beach. This project brings a really vibrant urban aesthetic to Downtown West Palm Beach. We have a ton of cookie-cutter buildings built in the 2000's - I wish we had more historic buildings like this to bring back to life." said, Patrick Lafferty, Broker for Modern Living Real Estate. "This building also fills a niche we needed here; smaller more affordable apartments that you can walk to everything Downtown has to offer."
Alexander Lofts garnered great attention by the general public as the developers commissioned L.A based artist Tristan Eaton to paint the 7,000 sq. foot water front facing wall. Easton's use of surrealism coupled with vibrant colors adds a brilliant urban touch to the heart of downtown. Alexander Lofts is a perfect modern option for the many young professionals that keep coming in to call West Palm Beach their home. It's incredible location makes it accessible to walk to everything that Downtown West Palm Beach has to offer including City Place, Clematis Street, and the beautiful waterfront along Flagler Drive.
In May of 2015 Pre-leasing started for Alexander Lofts. The building has had an impressive response: 35% of its units were leased within the first week. At this pace, Alexander Lofts is sure to lease out in record time. Alexander Lofts will also feature a beautiful small park next to the building, adding green space to Downtown West Palm Beach as well. If you are interested in this project, or have a project in South Florida you would like Modern Living Real Estate to sell or lease, contact us at 561-228-8420 or email us at info(at)modernlivingre(dot)com. For more information on Modern Living Real Estate, please visit http://modernlivingre.com. For more information on Alexander Lofts, please visit http://alexanderloftswestpalm.com