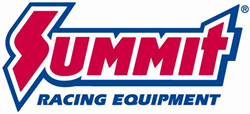 Tallmadge, OH (PRWEB) May 29, 2015
Enthusiasts can now upgrade a 347 cubic inch small block Ford build with Summit Racing's Black and Blue 347 Stage 1 Parts Combos to make even more horsepower with this Engine Power Black and Blue Stage 2 Parts Combo.
When PowerNation TV's Engine Power team put together the Black and Blue 347 Ford, they got a very respectable 507 horsepower and 447 lbs.-ft. of torque on the dyno. Not bad for a engine built with off-the shelf parts.
But the Engine Power guys suspected there was more power lurking in those 347 cubic inches. A Lunati roller cam swap, some Jesel shaft rockers, a bigger Quick Fuel carb, and upgraded Hooker headers proved them right—566.9 peak horsepower at 7,200 RPM and 455 lbs.-ft. of torque at 5,800 RPM.
Enthusiasts can combine the parts used to build the Black and Blue Stage 1 engine with this Stage 2 Combo to get similar results too. The Combo includes:

Lunati Voodoo solid roller camshaft, 279°/285° duration @ .050, .624/.640 inch lift
• Lunati vertical bar roller lifters

Jesel 1.7 ratio Sportsman shaft roller rockers
Lunati Pacaloy dual valve springs, 1.550 inch diameter
Lunati valve spring retainers
Cometic MLS head gaskets
Quick Fuel Black Diamond 950 cfm carburetor
Edelbrock Super Victor Jr. intake manifold
Hooker Super Competition full length headers, 1 3/4 inch primaries
Watch the Black and Blue Stage 2 build online at PowerNationTV.com.
Summit Racing Equipment
http://www.SummitRacing.com
1-800-230-3030