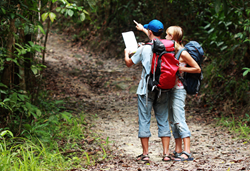 Music, Hiking and Golf in the Land of Waterfalls
Asheville, North Carolina (PRWEB) May 29, 2015
This summer, music lovers and Baby Boomers from all over the country will head to Brevard, located high in the Blue Ridge Mountains and long considered one of the best places to live in North Carolina to attend the summer long Brevard Music Center Festival. This year the festival begins on June 5 and runs through August 15.
Located near many North Carolina golf communities and several of the best hiking spots in the area; the Brevard Music Center is a summer community for gifted high school and college music students to concentrate on their studies with exceptional visiting artists and teachers. The center located on Andante Lane rests on 180 acres of forested land in Brevard. In the summertime, the Center produces the festival, which includes 80 public performances by their students and visiting professionals.
Opera, Chamber Music and Orchestra performances are the main courses in the festival's offerings. Side dishes include Jazz, Bluegrass, Piano and Violin recitals. Types of music performed include Baroque to Classical and from Modern to Pops.
Here is a sampling of the live performances on tap this summer:
Brevard Blues Festival runs June 5-6, features 10 Blues acts and outdoor food and craft vendors
Opera's Greatest Hits, June 18, 7:30
Steep Canyon Rangers, Bluegrass, June 30, 7:30
Soloists of Tomorrow, Student performance, July 25, 3:00
A Prairie Home Companion with Garrison Keiler, August 15, 7:30
While attending the Festival it is a great idea to check out the environs with an eye to finding the perfect retirement community. The Western area of the Blue Ridge is rife with small town theatrical groups, farm to table dining opportunities and nearby Asheville is the center of craft beer making and consumption. Brevard is a good outpost to begin your travels. Outdoor activities can be found nearly year round and indoor social events are easily found in many North Carolina golf communities.
The towns of Brevard and Hendersonviille are close neighbors. Several retirement oriented golf club communities are located in the area. Real Estate Scorecard feels the cream of the crop as some of the best places to live in North Carolina are:
CHAMPION HILLS is a traditional golf country club with incredible curb appeal about 10 minutes from downtown Hendersonville. The golf community has easy access to some of the best hiking spots in the area with nearly 18 miles of trails on the property. The centerpiece of this community is its Tom Fazio designed golf course and recently renovated clubhouse.
KENMURE COUNTRY CLUB located in Flat Rock, is a more informal golf country club with an active social calendar. There are 14 core social clubs, plus golf, swimming and tennis. The former Kenmure Mansion has been repurposed to provide a clubhouse venue for all that socializing. The lush golf course on the property was designed by Joe Lee, a golf course architect whose clients include Disney.
CONNESTEE FALLS is one of the most established North Carolina golf communities. In existence for forty years, new homes and custom house sites are available, and the community has been carefully shaped to maintain forested areas and lakes. Four private lakes are on the property and an 18 hole championship course designed by George Cobb. Connestee Falls is located near Brevard.
There are many more hiking and golf communities all around Asheville. Summer remains one of the best seasons to visit the Blue Ridge Mountains, one of the best places to live in North Carolina. The elevation allows cooler, less humid weather in Summer to enjoy the great outdoors. Nighttime temperatures can require a sweater. Brevard and Hendersonville are great towns to walk, eat, shop and play outside. More energetic pursuits include some of the best hiking spots in North Carolina. Fishing, kayaking and of course, golfing are other available recreational pursuits.
Several natural waterfalls grace the area and can be a great day trip with a bit of hiking to see the falls. The DuPont State Forest is located between Brevard and Hendersonville. Established in 1996 by a generous land sale from DuPont Corporation, the Forest has grown to 10,400 acres. Seven waterfalls are located in this preserve, four on the Little River property and three in the area newest to the preserve, Bridal Veil Falls being the most famous.
This area of the Blue Ridge features winding roadways with long scenic vistas of Mountains and clear blue lakes stocked with fish just waiting to be caught. Many National Parks are located nearby and the Blue Ridge Parkway is just a short drive away.
About Real Estate Scorecard:
Real Estate Scorecard writes unbiased real estate reviews providing in-depth information about popular gated communities in Florida, Georgia, North Carolina, South Carolina and Tennessee, all in an effort to help people discover where to retire in the Southeast.
Website: http://realestatescorecard.com