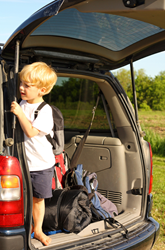 Consistent high performance for over a decade brings peace of mind to our customers.
Saint Paul, MN (PRWEB) May 31, 2015
Reell Precision Manufacturing, a world leader in small package position control, is pleased to announce that they have now shipped more than 13 million parts during the last 10 years without a single returned part or field issue. The milestone validates Reell's reputation for high-quality innovative solutions, on-time delivery, and exceptional customer service.
The parts are used in a major minivan program to provide reliable and consistent positioning for in-floor seat storage. Reell's ability to deliver a high volume of parts, on time and in-spec parts has made them a preferred supplier to the automotive interiors market.
Transportation Business Unit Leader Horace Beale expects continued high performance and market growth. "We are pleased with this accomplishment, and fully expect it to continue for another 10 years. Being able to perform like this for over a decade brings peace of mind to our customers. It allows them to be confident using Reell in additional programs."
Reell Precision Manufacturing provides high-quality innovative solutions to transmit torque, control angular position and protect delicate components from excessive force. Combining the world's most precisely controlled torque technology with the industry's most experienced engineering team provides a perfect product fit in customer applications. Reell's patented technology is widely used in the automotive, aircraft interiors, consumer electronics, medical technology, workstation furniture, kiosk/data terminal, and architectural lighting industries.
For more information about any of Reell's products and services, please contact Reell or visit http://www.reell.com.
Follow Reell on twitter: @reell