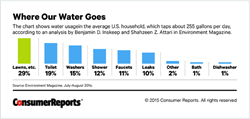 The two best ways to save water are by replacing water-wasting appliances and fixtures, and changing certain habits
Yonkers, NY (PRWEB) May 28, 2015
For drought-plagued Californians, saving water is a necessity. But it's also a pretty good idea for all Americans. A new guide by Consumer Reports reveals the top-performing, water-efficient, washing machines, dishwashers, toilets, and showerheads, along with some meaningful ways to save water around the house and yard.
"The two best ways to save water are by replacing water-wasting appliances and fixtures, and changing certain habits," said Dan DiClerico, senior home editor for Consumer Reports. "Neither is easy. The first requires an upfront expense and the second a long-term commitment. But consumers who do both will cut their usage in half or better."
Despite good intentions, switching appliances and fixtures can sometimes have unintended consequences, according to Consumer Reports. Folks who install a low-flow shower may take longer showers, for example. However, in CR's tests of those and other products, both efficient and performance are measured – so the top-rated models don't sacrifice one for the other.
The full water saving guide is available in the July 2015 issue of Consumer Reports and at ConsumerReports.org.
Outdoor watering accounts for 29 percent of water use. Consumer Reports has the following tips for saving water outside in the yard:
1. Let the grass grow longer by raising the lawn mower's cutting height. Longer blades of grass help shade each other, reducing evaporation.
2. Don't wash off the driveway, steps, or deck with water. Sweep them instead or use a leaf blower, such as the CR-recommended Toro Ultra Blower Vac 51609 ($75).
3. When it rains, collect the water in barrels or install gutters and down-spouts that direct the runoff to your plants and trees.
4. Reduce the size of the lawn. Consider replacing grass with mulch, ground cover, drought-tolerant plants, or ornamental grasses.
5. If watering is permitted, use soaker hoses or drip irrigation to apply water slowly and evenly. Water early in the day when evaporation rates are low and more water is absorbed.
About Consumer Reports
Consumer Reports is the world's largest and most trusted nonprofit, consumer organization working to improve the lives of consumers by driving marketplace change. Founded in 1936, Consumer Reports has achieved substantial gains for consumers on health reform, food and product safety, financial reform, and other issues. The organization has advanced important policies to cut hospital-acquired infections, prohibit predatory lending practices and combat dangerous toxins in food. Consumer Reports tests and rates thousands of products and services in its 50-plus labs, state-of-the-art auto test center and consumer research center. Consumers Union, a division of Consumer Reports, works for pro-consumer laws and regulations in Washington, D.C., the states, and in the marketplace. With more than eight million subscribers to its flagship magazine, website and other publications, Consumer Reports accepts no advertising, payment or other support from the companies whose products it evaluates.