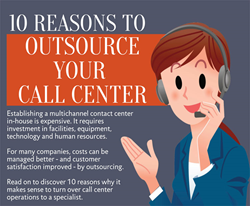 El Paso, Texas (PRWEB) May 30, 2015
DATAMARK, Inc., a leading provider of business process solutions, including outsourced contact center services for Fortune 500 companies and other large enterprises, has released a new infographic, "10 Reasons to Outsource Your Call Center."
The infographic outlines a number of advantages and benefits that organizations can gain by turning over their call center operations to a specialized, third-party provider. They include:

Cost Reduction: Providers spread facility, equipment and training costs across many clients, who benefit by paying only for services needed on a transactional or per-hour basis.
Flexibility and Scalability: Providers can plan for call volume peaks and valleys, scheduling staff so that they work more efficiently, reducing cost-per-call. Also, outsourced call centers have the size and staff to ramp up quickly for seasonal activity or major campaigns.
Expert Management and Support Staff: As specialist service providers, outsourced call centers compete to attract the best managers and staff with years of experience in call center operations. These include specialists in call center workforce planning, quality assurance, technology, and training.
Access to Latest Technology: Providers research and invest in the best technology for multichannel customer contact, such as cloud-based software platforms offering multichannel customer communication over VoIP, email web chat, SMS text and social channels. They spread the cost of the platforms across multiple clients, making access to technology affordable.
The new infographic is available at DATAMARK's Outsourcing Insights blog at this link:
https://www.datamark.net/blog/top-10-reasons-outsource-call-center
DATAMARK will exhibit its outsourced contact center services during the Expo Hall event at Call Center Week, June 15-19 at The Mirage Hotel and Casino in Las Vegas, Nev. Expo Hall hours are Wednesday, June 17th, 7 a.m. - 7:30 p.m., and Thursday, June 18th, 7:15 a.m. - 3:30 p.m.
About DATAMARK
Celebrating its 25th year in business in 2015, DATAMARK, Inc. is a leading business process outsourcing company specializing in high-volume digital mailroom management, document processing/document management, bilingual (English/Spanish) contact centers and process improvement consulting for Fortune 500 companies and other large enterprises.
Headquartered in El Paso, Texas, DATAMARK employs nearly 2,200 people in its U.S., Mexico and India facilities. For more information, visit http://www.datamark.net. Follow industry news and trends at DATAMARK's Outsourcing Insights blog at http://www.datamark.net/blog.