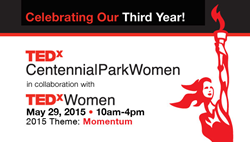 This year's sold-out event will be a catalyst for fresh dialogues and inspiration.
(PRWEB) May 29, 2015
Today, thought leaders from across America gather in Atlanta for the third annual TEDxCentennialParkWomen. Among those gathered are three prominent Weaving Influence authors--Cheryl Bachelder, Henna Inam, and Jennifer Kahnweiler.
Joining the efforts of TEDxWomen to empower women across the globe, this independently organized event aims to fuel discussions centered around this year's theme of "Momentum."
"This year's sold-out event will be a catalyst for fresh dialogues and inspiration," says Henna Inam, author of "Wired for Authenticity" and the chairwoman of the event, "Our team's specific intention for this event is authentic self-expression among speakers, attendees, and our team that helps us all connect as a community."
Cheryl Bachelder, CEO of Popeyes® Louisiana Kitchen, Inc. and author of "Dare to Serve," will be a featured speaker at the event and will embolden attendees to embrace the challenging and tough-minded path of servant leadership. As the CEO of Popeyes®, Bachelder led a remarkable strategic turnaround for the franchise and has consequently become a powerful role-model for leaders across the nation.
"As much learning and sharing goes on in the hallway as from the MainStage," says Jennifer Kahnweiler, author of the upcoming book "The Genius of Opposites."
"Too many women still lack confidence in their gifts," adds Kahnweiler, "One of the ways we can all surmount this barrier is through events like this in which we can engage with other women who are doing great things and taking risks."
In addition to their ties to TEDxCentennialParkWomen, Bachelder, Inam, and Kahnweiler are all part of Weaving Influence's author community. The Weaving Influence team has helped each woman increase their level of exposure through supporting the launch of their books.
"I'm excited to see our authors take part in this prestigious event," comments Becky Robinson, CEO of Weaving Influence, "It's thrilling to have been a part of promoting their success and I look forward to seeing more women benefiting from their insights."
Live updates from the event will be accessible on Twitter at #TEDxCPW and @TEDxCPWomen. After the event, individual videos of the speakers will be submitted to TED for curation and posted on tedxcentennialparkwomen.com.
About Weaving Influence
Founded in 2012, Weaving Influence brings together more than 30 skilled professionals to partner with authors and thought leaders to grow their online influence and market their books. The company identifies client priorities and focuses on providing ideas, plans, strategic advice, social media consultation, and online implementation. While primarily serving authors and thought leaders, Weaving Influence also works with corporations, small businesses, and nonprofit organizations. For more information, please visit the company's website.