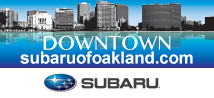 Oakland, Calif (PRWEB) May 28, 2015
WHO: Downtown Subaru of Oakland and The East Bay SPCA & adorable adoptable animals
WHAT: Downtown Subaru of Oakland is proud to present a check in the amount of $12,394.00 to the East Bay SPCA. This check is made possible by our loyal customers who chose the East Bay SPCA as their charity when they bought a car during the Subaru Share the Love Event.
WHEN: Friday May 29, 12:00 noon
WHERE: Downtown Subaru of Oakland, 4133 Broadway, Oakland, CA 94111
WHY: From November 20, 2014 to January 2, 2015, Subaru donated $250 for every new Subaru vehicle sold or leased to the customer's choice of 6 charities. Our customers overwhelmingly chose the East Bay SPCA which made this check possible.
About East Bay SPCA
The East Bay SPCA is a 501(c) 3 nonprofit committed to the welfare of animals in Alameda and Contra Costa Counties. Established in 1874, the East Bay SPCA is one of the nation's oldest independent humane organizations and receives no funding from local, state or federal governments, or any national animal welfare organization. The mission of the East Bay SPCA is to eliminate animal cruelty, neglect and overpopulation by providing programs and education that support people and companion animals. Operating three facilities in Oakland (2) and Dublin, the organization offers adoption centers, spay/neuter surgery centers and companion animal behavior and training classes. The AAHA (American Animal Hospital Association) accredited, full-service Theodore B. Travers Family Veterinary Clinic, is located on the Oakland campus of the East Bay SPCA.