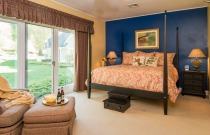 The intimacy of this Stowe, VT bed and breakfast has made it an oasis for elopements, small weddings, proposals, and celebrations of all types
Stowe, VT (PRWEB) June 01, 2015
Linda and George Fulton announced today that the Stone Hill Inn has been selected to be among the first inductees to be enshrined into the TripAdvisor® Hall of Fame. The Hall of Fame is reserved exclusively for hospitality establishments that consistently achieve extraordinary traveller reviews on TripAdvisor. The 'Hall of Fame' celebrates excellence in hospitality and was created to honour those businesses that have earned a Certificate of Excellence for five consecutive years. Winners include accommodations, eateries and attractions located all over the world that have continually delivered a superior customer experience.
"We have been blessed by the wonderful guests who make it a joy to want to work with them and to make their stay exceptional," commented owners Linda and George. "Our mission since we assumed ownership of the Stone Hill Inn in Stowe, VT years ago has always been to create unexpected opportunities for our guests to celebrate life…together. We give thanks especially to Tony, Director of Guest Comfort, and to the many excellent vendors and suppliers who have been so willing to work with us to help create memories for our guests. But most of all we give thanks to our exceptional guests and their gracious comments. Thanks everyone! "
Soft. Quiet. Undisturbed. The Stone Hill Inn, a Select Registry Bed and Breakfast in Stowe, VT, opened only 17 years ago. It is a nine-room, secluded, couples retreat surrounded by nine acres of woods, meadows, and gardens. Guests arrive via a quarter-mile, private access road that winds through the trees to the Inn featuring fourteen-foot ceilings, floor-to-ceiling fireplaces, dining among 40 windows and everywhere a feeling of hushed elegance. Designed for undisturbed relaxation, every room has a superb set of amenities -- king size bed, fireplace, sitting area, and a back door to the gardens; baths with a Jacuzzi for two, fireplace, matching sinks and shower.
While it sits quietly fifty feet above the mountain road, the Inn is only six minutes from the village of Stowe, VT, eight minutes from the best Alpine skiing in the East and just two miles from the first Nordic ski center ever established in America. Stowe, acknowledged as the best ski town in all of Vermont, has more visitors in the summer than winter. While skiing, snowshoeing, dogsledding, sleigh rides, and ice skating anchor winter activities, summer brings first class hiking, mountain biking, canoeing, kayaking, soaring, ballooning, golf, and wonderful walks in the woods.
Vermont and its reputation for unspoiled beauty and as a recreation headquarters brings guests from all over the world. The intimacy of this Stowe, VT bed and breakfast has made it an oasis for elopements, small weddings, proposals, and celebrations of all types. Linda and George find that in this environment of loveliness it makes it fun to welcome guests and to help them create memories that will sustain them until their next trip to the Stone Hill Inn.
When selecting Certificate of Excellence winners, TripAdvisor uses a proprietary algorithm to determine the honorees that takes into account the quality, quantity and recency of reviews and opinions submitted by travelers on TripAdvisor over a 12-month period as well as business's tenure and ranking on the Popularity Index on the site. To qualify, a business must maintain an overall TripAdvisor bubble rating of at least four out of five, have a minimum number of reviews and must have been listed on TripAdvisor for at least 12 months.