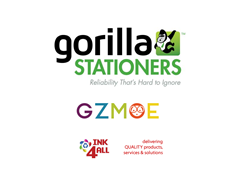 It's about creating a customer experience for our users; what kind of impression can we give to our customers to ensure we're up to date with their wants and needs
Huntington Beach, CA (PRWEB) May 29, 2015
In addition to their recent acquisition of GZMOE.com, Gorilla Stationers is furthering their ambitious brand growth with the acquisition of Ink4Allus.com, a Van Nuys-based website retailer that specializes in ink and toner products for the home and office. Ink 4 All's list of top-line products adds to Gorilla's incredibly large catalog, emphasizing Gorilla Stationers' status as an emerging industry veteran throughout the state of California and beyond.
With 3,500 active customers throughout the nation already, Ink 4 All's partnership with Gorilla Stationers creates an opportunity for both companies to offer their services to an even larger market. Starting May 29th, Ink4All's site will link directly to Gorilla Stationers, but the seamless transition moves beyond web pages alone. Ink 4 All is retaining the same staff and diligent customer service team, meaning the companies will merge their recognized wealth of knowledge for both their products and the web market.
Rosemary Czopek, President of Gorilla Stationers, commented on the acquisition, "Gorilla Stationers is so thrilled to continue our growth with companies that match our vision and philosophy of offering top-of-the-line products at prices direct from the manufacturer to provide better for our valued customers." The integration of both sites not only marks the second acquisition for Gorilla Stationers, but it increases the industry clout for a company that started less than three years ago. "Our top concern is giving our clients an easier way to get anything they could possibly want over the web," remarked Czopek. "We're not limiting ourselves to the office supply sphere – we want to be a top-level web company that competes with Amazon and beyond."
Ink 4 All's acquisition with Gorilla Stationers also means they are being incorporated into a strong brand with a developed social media identity, increasing the web presence and exposure on a greater level. Both Gorilla Stationers and GZMOE have active social media personalities with daily site and user interaction. Czopek remarked, "It's about creating a customer experience for our users; what kind of impression can we give to our customers to ensure we're up to date with their wants and needs?"
Gorilla Stationers' growth is improving every day within the business solutions market, and if these acquisitions are any indication, the company has big things in its future.
About Gorilla Stationers: Gorilla Stationers has an exciting new approach to the office products business. Founded in 2012 by Rosemary Czopek, a respected office supplies veteran in Southern California, Gorilla is outstanding in fulfillment expertise. From purchase point to delivery point, they focus on getting you what you want and when you want it. Gorilla Stationers is a participant of Goldman Sachs' 10,000 Small Businesses Program and certified as a diversity supplier through DBE and WBENC.