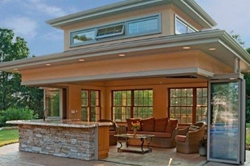 Kitchen Transition 2.0 is the ultimate window/door combination that opens completely to create an outdoor kitchen and a sense of spaciousness for everyday use and entertaining - NanaWall Systems CEO Ebrahim Nana
LOS ANGELES, CA (PRWEB) May 29, 2015
NanaWall Systems is showcasing its innovative Kitchen Transition 2.0 at Dwell on Design LA today through May 31 at booth 2147. Kitchen Transition 2.0 is a Single Track Sliding system featuring a dual-height window/door combination with the option of zero floor track (for pristine countertops) and hidden pocketed panels. This system brings the sights, sounds and fresh air into the ideal indoor/outdoor experience with the ability to have open corners, eliminating the need for posts in the middle of the kitchen area.
NanaWall Kitchen Transition 2.0 is a combination of the company's Single Track Sliding glass windows, which replace traditional windows over a kitchen countertop, and sliding glass ceiling-to-floor walls, which replace a wall or a typical sliding glass door. The two meet seamlessly, creating a high-style look, enhancing and expanding a living space. When open, the glass panels are able to seamlessly disappear into a pocket and out of view.
"Kitchen Transition 2.0 is the ultimate window/door combination that opens completely to create an outdoor kitchen and a sense of spaciousness for everyday use and entertaining," notes NanaWall Systems CEO Ebrahim Nana. "When closed, Kitchen Transition 2.0 provides secure weather protection and durability in all climates, from tropical coastal homes to wintery ski cabins."
TWEET THIS: .@NanaWall innovation adds the option of zero floor track, fully open corners and hidden pocketed panels http://bit.ly/1INMjfG #DODLA
Each panel of the window/wall Kitchen Transition 2.0 opens and operates independently; any combination can be created for virtually any kitchen that faces a backyard, courtyard or deck, creating unlimited opening possibilities.
Also at Dwell on Design, the NanaWall SL60 Folding system is on display – a design that maintains narrow and equal sightlines around each door panel, creating an attractive display of glass and light. The NanaWall SL60 delivers superior weather performance, beautiful aesthetic design, and offers an optional floor supported movement when installation conditions require it.
NanaWall Systems is also featuring NanaWall Floor Supported Technology. While many systems are supported by their upper track with the lower track serving as a guide, some applications require a different solution―such as retrofits, remodels, environments with snow loads and those where a building's height might shift over time.
For more information, visit nanawall.com, call 800-873-5673 or follow at http://www.facebook.com/NanaWall.
# # #
About NanaWall Systems
NanaWall Systems redefined the category of opening glass wall systems. During its 25-plus years in business, the company has earned the trust of architects, builders, design professionals and homeowners as a solutions provider for re-imagining how buildings, people and the elements interact. By combining precision engineering and outstanding design options across more than 20 unique systems, NanaWall Systems advances design possibilities beyond the conventional for almost any space.
NanaWall Systems is located in the San Francisco Bay Area, with 22 showroom and design studio locations across North America. NanaWall Systems is the exclusive North American partner of Solarlux Germany, the world leader in opening glass wall technology.
About Dwell on Design Los Angeles
Dwell on Design Los Angeles, curated by the editors of Dwell magazine, returns to the Los Angeles Convention Center May 29-31, 2015. With three full days of dynamic exhibitions, unparalleled educational opportunities, cutting-edge technologies, 90 onstage programs, 250+ speakers, and more than 2,000 innovative modern furnishings and products, Dwell on Design Los Angeles is America's largest design event.