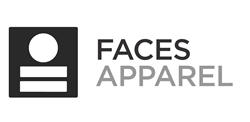 "Faces Apparel stands for equality and our logo is a reminder that there is a person behind each product we create." - Amy Wang Liao
LOS ANGELES (PRWEB) June 03, 2015
Faces Apparel is excited to announce the launch of its inaugural Ultimate Collection, a line of luxurious, fashion-focused basics for men and women made from natural ring-spun cotton and equipped with 37.5® Technology, which helps the body maintain optimum core temperature more efficiently. The Ultimate Collection is available for preorder, exclusively on the new Facesapparel.com, launched today.
Faces Apparel is the one of the first fashion and lifestyle apparel companies to merge contemporary fashion and luxurious fabrics with 37.5 Technology, a technology that was previously only found in high-performance sports apparel. The Ultimate Collection joins the most demanding outdoor apparel and footwear brands in the world that rely on 37.5 Technology to help athletes perform better, with success stories from companies like Adidas, Under Armour, Trek, Rab, K2/Ride, Bauer Hockey, Rossignol, Salomon, and Colmar among others. 37.5 Active Particle Technology captures and releases moisture vapor to maintain optimum relative humidity and core temperature in the wearer's personal microclimate, resulting in increased comfort and enhanced performance. 37.5 Technology is naturally derived and embedded into the yarn so it will never wash out.
"It is extremely exciting to see a contemporary fashion basics brand like Faces Apparel incorporate 37.5 technology into their assortment," said Scott Branscum, EVP at Cocona / 37.5. "I am a firm believer that performance and comfort are much needed in the fashion arena. I personally wear the Faces product and am thrilled with the level of comfort delivered within. We look forward to the excitement of innovation and distinctive products that Faces is bringing to the fashion apparel market by incorporating 37.5 technology."
Proudly designed and produced in Southern California, the Ultimate Collection is one example of how Faces Apparel innovates meaningful products for the apparel industry to transform lives, one face at a time. Operating under the philosophy of being "GLOCAL" – global + local – the company concentrates on both the local Los Angeles/United States community, as well as the global community. Partnering with local artisans and business leaders who share the vision and commitment to promote local enterprise, Faces Apparel operates in a vertically integrated model within each community and sells to the local economy, creating a self-sustaining economic paradigm that can be replicated globally.
"In search of innovation, our partnership with 37.5 was the perfect fit," said Faces Apparel COO, Amy Wang Liao. "Faces Apparel stands for equality and our logo is a reminder that there is a person behind each product we create. 37.5 Technology focuses on equalization to optimize performance and comfort. The Ultimate Collection embodies the values of our two brands and brings together these concepts of equality, in form and action."
The Ultimate Collection encapsulates the ultimate in comfort, versatility and performance, allowing wearers to easily transition from day to night, corporate to casual. The men's line consists of short sleeve crew and V-neck tees, a raglan plaque Henley and a short sleeve polo – with a mix of modern and relaxed fits. The women's line consists of contemporary and lifestyle pieces, including crew neck and V-neck cap sleeve tees, a long sleeve Henley, and a tunic-inspired scoop neck raglan. All feature the brand's signature design elements, including 3D body contour seam shaping and security stitching.
Faces Apparel is already known for its collection of premium blank tees, which is produced in socially responsible factories that provide workers fair wages and comply with international workplace safety code standards. These premium V-neck and crew neck shirts are available for wholesale and direct to consumer. Ethical production is taken to the next level through the Micro Factory Initiative. In partnership with community organizations, Faces Apparel uses a unique model to employ men and women who would otherwise be forced to leave their own communities in search of work.
Moving forward, Faces Apparel will partner with nonprofit organizations with like-minded GLOCAL goals through the upcoming Empowerment Collection, producing exclusive lines of product to benefit the organization and communities they serve.
For more information, visit http://www.facesapparel.com. Faces Apparel team members are available for interview upon request. Samples also available upon request.
About Faces Apparel
Innovating meaningful products for the apparel industry, Faces Apparel's mission is to bring dignity, worth and hope to communities at the GLOCAL (global + local) level. A leading for-profit social enterprise apparel brand, Faces Apparel was created with the belief that cause and enterprise can converge, working together to make a difference by breaking the cycle of poverty and transforming lives, one face at a time.
About 37.5 Technology™
37.5 Technology was created by Cocona Inc., a world leader in active particle technologies currently used to enhance the technical performance of clothing, footwear and sleep systems. The Company is headquartered in Boulder, Colorado.
###