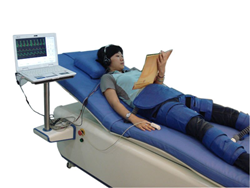 The results from External Counterpulsation provide new hope for heart disease
Calgary, AB (PRWEB) May 29, 2015
External Counterpulsation, also known as EECP or ECP, is a great heart disease treatment for patients. The Heart Fit Clinic is the first clinic in Calgary to offer this treatment and has released a raving review from patients who are now completing treatment.
Mr. Maik visited the Heart Fit Clinic and underwent 35 treatments of ECP treatment and received great results. His EECP testimonial review can be seen here. Not only does the clinic perform this non-surgical treatment for heart disease, they address all your risk factors and lifestyle behaviors so that patients can receive the best advice and treatment options. Patients no longer have to fly down to the States for this sought after treatment.
Patients who experience angina, pains associated with decreased blood flow to the heart muscle, now have another option versus loading up on medications or going for heart surgery. Heart stents or bypass surgery is a good treatment for patients with angina, however it is invasive, and should be used in emergent situations. Optimal medical therapy is the usual first line approach for patients suffering from angina, blocked heart stent or bypass, and/or patients not amenable to a heart stent or bypass surgery. Now External Counterpulsation (ECP), can help the people of Calgary and surrounding areas with these conditions. "The results from External Counterpulsation provide new hope for heart disease" says director of Heart Fit Clinic, Diamond Fernandes.
The Heart Fit Clinic offers this treatment along with sound lifestyle advises with nutrition, exercise and stress management strategies. They are serving the people of Calgary and surrounding areas to help them with their heart health and live happier, healthier and longer.
Please contact the Heart Fit Clinic for further information.