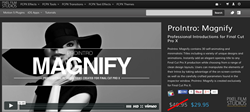 We intend to satisfy the needs of fans of FCPX around the world and get them what they need. Said Christina Austin - CEO of Pixel Film Studios.
Aliso Viejo, CA (PRWEB) May 30, 2015
ProIntro Magnify contains 30 self-animating and minimalistic Titles including a variety of unique designs and animations. Instantly add an elegant opening title to any Final Cut Pro X production while choosing from a range of clean design layouts. ProIntro Magnify is created exclusively for Final Cut Pro X.
ProIntro Magnify is extremely easy to use. Simply drag a preset into the FCPX timeline to make changes using the on-screen-controls and parameters in the Inspector window then watch as ProIntro Magnify does the rest.
By utilizing ProIntro Magnify's intuitive parameter controls in the inspector window, users can manipulate intros into any style they wish. Designing has never been so easy.
ProIntro Magnify gives users control over the position, rotation, and scale of title elements using brilliant on-screen-controls inside of Final Cut Pro X. Utilizing on-screen-controls, users can adjust title placement without ever having to key a single frame. Additional controls can be found in the Inspector window on the right-hand side of the viewer.
ProIntro Magnify can be fully customized within Final Cut Pro X. Editable parameters can be found in the top-right inspector window and users can easily edit attributes with a couple of clicks. Change color, length, width, magnification, height and more using sliders, dials as well as pop-down menus. Pixel Film Studios makes amazing easy using Final Cut Pro X.
Pricing and Availability:
The Pixel Film Studios Plug-ins are available today through the Pixel Film Studios website starting at $29.95 USD. For more information, please visit the Pixel Film Studios website.
Established in 2006, Aliso Viejo, California-based Pixel Film Studios is an innovative developer of visual effects tools for the post-production and broadcast community. Their products are integrated with popular non-linear editing and compositing products from Apple FCPX. All Apple, the Apple logo, Mac OS X, and Macintosh are registered trademarks of Apple Inc. in the U.S. and/or other countries. All other trademarks and trade names are the property of their respective owners.