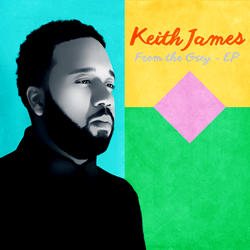 'He is a true entertainer!' ~ Billboard ~
Los Angeles, CA (PRWEB) May 30, 2015
You may not be familiar with the name of multi-platinum songwriter Keith James, but you've heard his work on Jeremih's "Birthday Sex," Nicki Minaj's The Pinkprint, and Wales "That Way," among many others.
Making his debut as a performer, the South Side Chicago native traveled from his Chicago city home for a stay in Los Angeles to collaborate with long time friend and multi-platinum producer Mick Schultz, which stretched into several months tucked away in Schultz's Malibu studio, where he recorded his debut EP, From The Grey, inspired by the notion that stereotypes and genre lines should be blurred.
"The slogan 'one world, one people' is evident in every song from the progression choice to the subject matter," James explains, "taking it all the way to the cover artwork, using no color lines. The cover art represents the essence that all colors are appreciated with no sexual discrimination. From The Grey is breaking the cultural restraints we place on ourselves because of what we hear, what we see, what we're taught, and what we accept as reality."
From The Grey, which is officially out June 16th, includes James' first single, "Not My Day," the explosive earworm with uplifting dance beats and catchy lyrics and is being projected by some to be 2015's Song of the Summer. A full track listing of the R&B/Pop EP, described by Schultz as a "vintage retro vibe, but very commercial," is available below. James will perform all five tracks off From The Grey at the official release show at the Hard Rock Café Chicago on June 26th. Tickets can be purchased now at http://smarturl.it/FTGshow.
Fans who pre-order From The Grey will get two tracks instantly - including "Not My Day," which has started hitting Top 40 and Hot A/C formats this month, and "Treat Her Like A Lady," the fourth track on the EP, which proves chivalry is not dead. Check out "Not My Day" and "Treat Her Like A Lady" along with all From The Grey details below.
Pre-order: From The Grey on iTunes: http://smarturl.it/FromTheGrey
Watch: "Not My Day" music video: http://smarturl.it/NMDVid
Keith James
From The Grey
(Mick Schultz Productions)
June 16th, 2015
1. Button
2. Not My Day
3. Peace
4. Treat Her Like A Lady
5. Phillips Song
For high-resolution press photos and media kit, visit: http://smarturl.it/keithjamesEPK
For more information on Keith James, please visit:
whoiskeithjames.com
facebook.com/whoiskeithjames
twitter.com/whoiskeithjames
instagram.com/whoiskeithjames
youtube.com/c/whoiskeithjames1