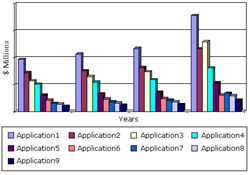 The global infrared sensor/detector market is expected to reach $1.3 billion in 2020
Wellesley, Mass. (PRWEB) May 29, 2015
BCC Research reveals in its new report on the infrared sensor/detector market that defense institutions will unequivocally shape the market for infrared sensor applications, particularly in thermal imaging. In fact, U.S. defense has placed infrared sensors on the specific resolution range on the list of export-control items.
The global infrared sensor/detector market reached $804 million in 2014, up from $732 million in 2013. From 2015 to 2020, the market is expected to gain about $500 million to reach $1.3 billion, reflecting a five-year compound annual growth rate (CAGR) of 8.7% during the period.
Industrial installations, which comprise a promising application sector, will continue to record substantially high year compounded annual growth rates (CAGRs) over the next five years. This segment presents diversity within use cases and scenarios unmatched by other application segments. There is ample scope for building economies of scale and generating rapid growth in several of these applications.
Infrared sensor stakeholders are comprehending the enormous potential of their devices in the consumer markets. Application examples include residential and other indoor, healthcare, logistic and transportation applications.
"As sensors and their associated devices continue to become increasingly affordable, product designers are looking for ways and means to embed these sensors in common consumer electronics, as well as automotive and medical equipment," says BCC Research analyst Shalini Ramamurthy. "A similar phenomenon is also underway in communication applications, wherein infrared cameras compatible with leading smart phone clients are being rolled out," she adds.
Infrared Sensors: Technologies and Global Markets (IAS100A) captures the current and future prospects of the infrared sensor industry, which must navigate an ever-growing demand for quicker and accurate readings within an availability of limited bandwidth.
Editors and reporters who wish to speak with the analyst should contact Steven Cumming at steven.cumming(at)bccresearch(dot)com.
About BCC Research
BCC Research publishes market research reports that make organizations worldwide more profitable with intelligence that drives smart business decisions. These reports cover today's major industrial and technology sectors, including emerging markets. For more than 40 years we've helped customers identify new market opportunities with accurate and reliable data and insight, including market sizing, forecasting, industry overviews, and identification of significant trends and key market participants. We partner with analysts who are experts in specific areas of industry and technology, providing unbiased measurements and assessments of global markets. Recently selected as the world's greatest market research company, BCC Research is a unit of Eli Global, LLC. Visit our website at http://www.bccresearch.com. Contact us: (+1) 781-489-7301 (U.S. Eastern Time), or email information(at)bccresearch(dot)com.