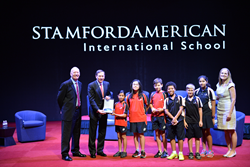 Success is not an achievement itself. The continuous quest to learn and to be better at what we do every day is how one achieves success. General (Ret.) David H. Petraeus
Singapore (PRWEB) May 30, 2015
Stamford American International School (Stamford American) hosted Singapore's first public leadership dialogue with former military commander and CIA director General (Ret.) David H. Petraeus, who is visiting Singapore to attend the Shangri La Dialogue, an annual international security conference. Gen. Petraeus addressed over 150 Grade 5 students as part of the school's Global Mentor Program.
The dialogue was on the back of the Grade 5 Exhibition where the students at Stamford American shared their International Baccalaureate Primary Years Programme (PYP) projects on the theme "Who We Are" with Gen. Petraeus. Students had to select a personally meaningful topic which allowed them to translate the knowledge into action – "Knowing who we are can inspire principled action", focused on making the world a better place. The students also had an engaging dialogue session on what it takes to be a leader of the future; bringing to life the learning philosophy of PYP to prepare students to be active and caring lifelong learners who respect others and can make a positive difference in a globalised world.
Gen. Petraeus spoke to the students about his professional journey and how he rose to become one of the most decorated generals in U.S. history and then director of the Central Intelligence Agency. In addition to his 37 years of service in the U.S. military, including as commander of coalition forces in Iraq and Afganistan, Gen. Petraeus also discussed his lifelong commitment to education, including his experience at the U.S. Military Academy at West Point and later at Princeton University, where he earned a Masters degree (MPA) and then a doctorate degree (Ph.D.) in international relations and economics. Gen. Petraeus is currently Chairman of the KKR Global Institute, part of the global investment firm KKR. He also serves as a visiting professor of public policy at the City of New York Macaulay Honors College; as a Judge Widney Professor at the University of Southern California; and, as a non-resident Fellow at Harvard University.
Sharing his leadership experiences from the government, military and corporate sector, Gen. Petraeus said, "Leadership has to be affirmative and adaptive, and most importantly, it never stops. Success is not an achievement itself. The continuous quest to learn and to be better at what we do every day is how one achieves success. I am confident that, among the energetic young minds I encountered at Stamford American today, there are many promising future leaders."
Stamford American's Global Mentor Program gives students access to leading global figures in the fields of business, science, social enterprise, athletics and the arts to motivate them to excel in their chosen paths. Some of these mentors include winner of the 1996 Nobel Memorial Prize in Economic Sciences, Professor Sir James Mirrlees, 2010 Nobel Laureate for Chemistry, Professor Ei-Ichi Negishi, 2009 Nobel Laureate for Chemistry, Professor Ada E. Yonath and U.S. Olympic medalists Nathan Adrian and Jessica Hardy.
Superintendent for Stamford American, Mr. Malcolm Kay said, "Gen. Petraeus is widely known as a leader with vision at an international level, who is able to think innovatively and take talent and organizations to the next level. We are truly honored to have him here as part of our Global Mentor Program to engage with our students today. This is the first time he has addressed elementary school students and his insights on leadership will go a long way to nurturing our young leaders of the future."
-END-
About Stamford American International School
Stamford American is the first school in Singapore to offer students both the International Baccalaureate (IB) Diploma, Advanced Placement and the American High School Diploma–giving students an international experience with an American foundation. Stamford American's $300 million centrally located campus off Upper Serangoon Road is the most advanced learning environment ever built and is the largest investment in a Kindergarten to Grade 12 education facility anywhere in the region, providing a major economic injection into the Singapore economy. The campus features state-of-the-art technology and facilities including an Innovation Center, through a collaboration with Bloomberg – a first for any high school in Asia, establishing it as the benchmark for international schools around the world. It also house's the island-state's only EducationUSA Advising Centre partnering with the U.S. Embassy. Stamford's campus is designed to be the perfect environment for preparing children from aged 2 to High School for careers in the 21st century.
For more information on Stamford American International School, please visit:
http://www.sais.edu.sg or call +65 6602 7247