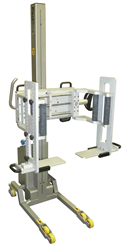 The roll handling equipment with clamp attachment and retainers is a great option for any business wishing to improve or eliminate any lifting and handling issues they are experiencing
(PRWEB) June 01, 2015
New to Packline Materials Handling is the innovative roll handling equipment with a clamp attachment and retainers to prevent the rolls or drums from slipping or being crushed during lifting and handling. Constructed from stainless steel, this lifting equipment is suitable for use in the food and pharmaceutical industries, for example, handling drums of ingredients or rolls of film or foil.
Rolls can have a tendency to telescope, or drums can slip or crush when being lifted from the core or the diameter. This handling issue is usually overcome by using a higher rated torque unit to lift the rolls of drums. In some cases a higher rated torque unit is still not sufficient to prevent rolls telescoping or drums slipping whilst being lifted. In these situations an alternative solution is required.
This issue can be resolved with the use of roll handling equipment with adjustable retainers within the clamp attachment. The adjustable retainers are designed to cover a wide range of roll and drum diameters and lengths, all of which can be lifted by the clamp attachment.
The adjustable retainers are designed to cover a wide range of roll and drum diameters and lengths, all of which can be lifted by the clamp attachment.
'Star knobs' are used to secure the retainers in place vertically by screwing into the sides of the arms. The width of the retainers is then adjusted using plunger pins through holes in the plates.
A fully stainless steel and anodised aluminium solution means this handling solution is suitable for the Food and Pharmaceutical industries.
Specifications:
Safe Working Load (SWL): up to 200kg (440.93lbs) depending on drum or roll type and size.
Maximum Roll or Drum Diameter: 550mm (21.65 inches).
Minimum Roll or Drum Diameter: 200mm (7.87 inches).
Ideally suited for clean room environments, the stainless steel range of roll handling equipment from Packline Materials Handling, is suitable for use in the following industries:

Food processing
Drinks and Beverages Processing
Dairy
Pharmaceutical
Packaging and Labelling Industries
FMCG; Fast Moving Consumer Goods
Medical Processing
Chemical
The purpose-designed compact framework, positioning of handlebars and remote control device provide improved manoeuvrability and ease of use for the operator.
The extremely small footprint of this lifting equipment makes the roll or drum handler highly manoeuvrable and a natural choice for today's narrow production lines and demanding lifting requirements.
For further information on the roll handling equipment with clamp attachment and retainers, or the full range of lifting and handling equipment, please contact Packline Materials Handling on +44 (0)1202 307700 or visit http://www.packline.co.uk.
Packline Ltd
Unit 28
Newtown Business Park
Ringwood Road
Poole, Dorset
BH12 3LL, UK
USA Distributor:
Ultrasource USA LLC
1414 West 29th Street
Kansas City, MO 64108-3604
(O): 816.360.2034 | Ext 2034
http://www.ultrasourceusa.com/
For a full list of worldwide distributors please visit Packline's website.