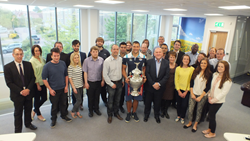 Ilkley, Leeds, West Yorkshire (PRWEB UK) 1 June 2015
The Ilkley company, owned by local business partners David Tindall and Tim Sedgwick, which started life at Tim's kitchen table only 8 years ago, has now grown to employ almost 50 people.
This will be the third move that the company has made over the last 6 years, having moved to an office on Little Lane in 2010 and then on to Dalesway House in 2012 as the number of staff has continued to grow.
The company's new office, based on Leeds Road in Ilkley, is part of a new unit which has been specially converted from light industrial to state-of-the-art offices according to the company's own custom design. David Tindall worked closely with staff in the company to ensure that everyone had an input into the design and facilities. "As a forward-thinking technology company, we wanted to create a head office that's exciting and comfortable to work in at the same time as being a highly-functional space that will maximise working efficiency. It's taken a couple of months to convert the empty shell, but the whole office team are really pleased with the end result," he said.
Features include zonal air-conditioning, motion-controlled lighting, a grassed indoor picnic area, mobile controlled kettles, a shower and special 'quiet' relaxation areas for staff. The new office will also house the control centre for the company's network operations team, which looks after the broadband for over 1,000 schools across the UK. Solar panels are in the planning by the end of the year to meet the company's strict environmental policy.
Tim Sedgwick commented on the company's growth: "It's been an incredible 8 years and despite tough economic times, we're proud to have flourished so well. As a company born in Ilkley, it was always our intention to maintain our base here. Finding suitable office space for a growing company was challenging, but we're delighted with our new building and position in the town. I feel extremely pleased that we've been able to bring new employment opportunities to the area, particularly for young people as there are very few technology companies in the locality. Our new offices have the capacity for up to 35 additional staff and I hope the company will continue to grow over the next few years."
About Talk Straight
Talk Straight Group is an Internet Service and telecoms provider to hundreds of organisations across the UK. Founded in 2007, the company provides internet connectivity, cloud-hosted security, Wi-Fi, VoIP telephony, WAN/VPLS and mobiles. The company's specialist division, Schools Broadband serves over 1,000 schools nationally, giving them the fastest possible internet speeds coupled with education specific content filtering from Lightspeed Systems and industry-leading security from Fortinet. In 2014, Talk Straight were winners of the ISPA (Internet Service Providers Association) award for Best Business Use of Cloud.